Sept2017 NewSmyrna MosquitoLagoon DaytonaBch Backcountry
Capt. Michael Savedow
September 30, 2017
Mosquito Lagoon - Saltwater Fishing Report

All is well here in East Central Florida after Hurricane Irma, the water is high, but is pretty clear following the big east wind pushed in ocean water to the Indian River backcountry and Mosquito Lagoon, the fall mullet run is going on with lots of bait fish schools, inshore game fish moving in on their migration towards the south, Jack Crevalle, Bluefish, Ladyfish, Tarpon in addition to our resident Seatrout, Redfish, Mangrove Snapper, Snook, and more. Fun fishing charters continue, both before and now after the storm, just a couple days before Irma's arrival, was out on the flats of Mosquito Lagoon with regular client Vic from Orlando on his annual September trip with me, hunting Redfish, poling the grass flats, and catching some Seatrout on live baits off the edges on drop offs, Family friend Angel caught a 25" Red along a scenic old Florida palm tree lined shoreline……………….
Vic was quite happy catching Redfish this morning also………………
Son Mikey caught the best Trout of the morning………………
New clients from Indiana and The Villages in Florida came out a few days after the hurricane past through, we started out in the backwaters, light tackle free line fishing, catching a little slower than would be usual with the flood level water and all after the storm, but still catching a bunch of Jack Crevalle, Ladyfish, and Snappers, by late morning we switched tactics to the flats hunting Redfish catching a few spot tails, Denise got a nice Red with an extra spot……………………
……..and Linda with her Red catch………………….
Always some surprise catches in the back country, this one a 5.5 lb. Sheepshead caught by Larry, usually a winter catch, this one a summer Sheepy………………..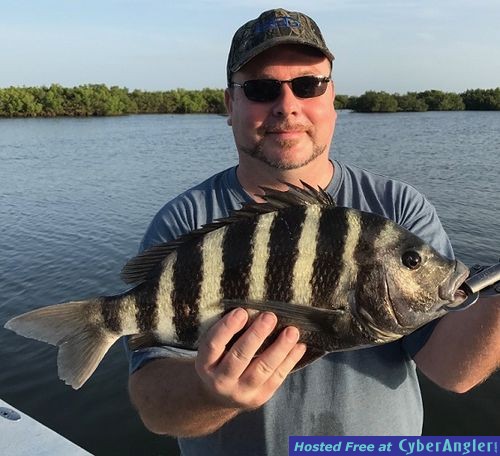 Kevin with a good Indian River back waters Seatrout……………
You never know what fish may be the highlight of the trip for different folks, this Puffer was Cody's favorite of all the different species caught on this mixed bag variety trip with his family……………….
FUN FRIENDLY LIGHT TACKLE FISHING ADVENTURES
Indian River and Mosquito Lagoon Backcountry and Flats Fishing
CHILDREN ALWAYS WELCOME – FAIR PRICES
Near Daytona Beach, New Smyrna Beach, and Orlando, East Central Florida
CALL OR TEXT ME ANYTIME 386-689-3781
See my website http://EdgewaterRiverGuide.com
Capt. Michael Savedow
Edgewater River Guide, Inc. Since 2003
386-689-3781
http://EdgewaterRiverGuide.com
More Fishing Reports: