2017 New Smyrna Backcountry Daytona Mosquito Lagoon Area
Capt. Michael Savedow
January 15, 2017
Mosquito Lagoon - Saltwater Fishing Report

I am excited for a new year of 2017 with all the different seasons and different fishing patterns and fish to come, we have finally had some chilly weather this mid winter after a mostly mild early winter. Colder temps clear up the water in Mosquito Lagoon and the Indian River Backcountry, creating distinct winter patterns with some fish frequenting the flats and the sloughs within, while other fish gang up in the deeper holes of 10, 15 to 20 feet deep in the backcountry. Hunting the flats mean targeting primarily Redfish and Seatrout, sight fishing is the norm in clear shallow water, while the holes in the backwaters have more variety of species, regularly catching, Seatrout, Sheepshead, Black Drum, Redfish, Mangrove Snapper, Whiting, and always more different surprise catches hiding in the deep holes waiting to eat our shrimp. Repeat client Rick from Virginia came on a lagoon trip recently fishing all artificial soft plastic baits, first few hours we worked the flats catching about 15 fish, mostly Trout with several of them up to about 4 lbs, second half of the trip we headed up to the Edgewater backwaters with some deeper holes, switching to weighted soft plastics, catching lots more Trout and also a bunch of small Snook, Redfish, and Ladyfish………………..
James from Georgia was here to explore Mosquito Lagoon and did a trip with me in the backwaters on a foggy morning, trying some jig lures, also live shrimp, catching a good variety, some Trout, Snappers, small Reds and Snook, and a good little Black Drum………………..
Regular client Johanna from Orlando brought her kids on a trip during their Christmas vacation from school, all the kids caught a bunch of mixed species fish, targeting the deeper holes in the back waters, India caught the best fish of the trip a true Weakfish…………………
Another Orlando repeat client Kevin did a trip with his dad here visiting for the holidays, a fun size Black Drum was one of the fish coming aboard………………
We have been catching many more Snook in the area for the last couple years, they are making a come back here after low populations for a few years following our last hard freeze winters during 2010 and 2011, great to be catching them again regularly, Randy with a fun Snook……………..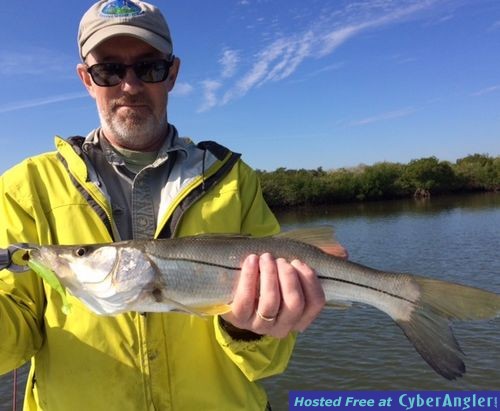 Even I get to catch a fish every now and then………………….
2015 GulfShore 20' by Young Boats
CALL OR TEXT ME ANYTIME 386-689-3781
See my website http://EdgewaterRiverGuide.com
MOSQUITO LAGOON FLATS FISHING AND INDIAN RIVER
BACKCOUNTRY MIXED BAG SALTWATER FISHING TRIPS
CHILDREN ALWAYS WELCOME – FAIR PRICES
Near Daytona Beach, New Smyrna Beach, and Orlando, East Central Florida
Capt. Michael Savedow
Edgewater River Guide, Inc. Since 2003
386-689-3781
http://EdgewaterRiverGuide.com
More Fishing Reports: