New Smyrna Backcountry Daytona Beach Seatrout Redfish
Capt. Michael Savedow
May 16, 2014
Mosquito Lagoon - Saltwater Fishing Report

Summer is almost here in East Central Florida, water temperatures up to 75', mullet bait schools returning from the south, Redfish scattering out over the grass flats of Mosquito Lagoon beginning the warm water pattern flats fishing which I will be pursuing for the next several months targeting Reds and Trout. Indian River backcountry fishing has also been very steady catching, Seatrout, Redfish, Mangrove Snapper, Jack Crevalle, and fun jumping Ladyfish to name a few of the many different species we catch on my mixed bag variety trips. Regular client Dr Ed from Ormond Beach called for a last minute afternoon trip recently with his son Matt who caught the largest Trout of the trip on a deep drop off with live shrimp.
New client Norbert came over from Orlando with his friend Jason a couple weeks ago and also did a backcountry mixed trip catching all the usual different species on live shrimp with light spin tackle. Jason caught the big one of the morning, another great Seatrout close to an oyster bar and mangrove tree drop off.
Even I got in on the Trout action during a fun scouting trip on Mosquito Lagoon invited by my friend Capt Tony, I love it when friends invite me to go fishing with them. We located a few spots holding Reds for our upcoming charters, and catching a couple nice specks on soft plastic artificial lures on grassy drop offs on the edge of the flats.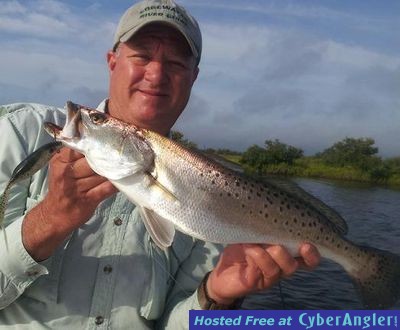 Repeat clients Brian and Calle, students at Stetson University at nearby Deland did another late spring pattern trip with me last week catching Redfish, Seatrout, and most of the other salty species along the way through the Edgewater backcountry. Brian caught his Red holding tight to an oyster bar just inside a creek mouth.
Some good size Jack Crevalle have arrived in to the backcountry in the last couple weeks, some times chasing baitfish to the surface blasting white water blow ups, casting bait or lures right into the action can be an instant bent rod and drag pulling, they also prowl the edges of deeper drop offs making double hook ups for drifting a few live shrimp along the edges.
Up close and personal Bottlenose Dolphin, Manatees, Osprey, Great Blue Herons, and more wildlife viewing while fishing the inshore saltwater Lagoon and Backcountry waters.
MY BOAT COMFORTABLY ACCOMMODATES 1 TO 4 ANGLERS
CALM WATER INSHORE SALTWATER FISHING – NO SEA SICKNESS
CHILDREN ALWAYS WELCOME – FAIR PRICES
Near Daytona Beach, New Smyrna, and Orlando, East Central Florida. Saltwater inshore backcountry charters, Mosquito Lagoon flats fishing, fly fishing trips by request.
Call or text me anytime at 386-689-3781
See my website http://EdgewaterRiverGuide.com
Capt. Michael Savedow
Edgewater River Guide, Inc. Since 2003
386-689-3781
email> [email protected]

More Fishing Reports: