New Smyrna Beach Mosquito Lagoon Backcountry March 2018
Capt. Michael Savedow
March 20, 2018
Mosquito Lagoon - Saltwater Fishing Report

March 2018 has brought winter back to East Central Florida, nights in the 40's and upper 30's most of the month, water temperatures dropping back to 58' to 60' after a warm February had water temp up to 68' to 72', so a confused pattern of a spring like February then back to a March winter pattern has made for interesting but good fishing and catching here at Mosquito Lagoon and the Indian River Backcountry. Early spring migration had already started with schooling Bluefish, Pompano, Jack Crevalle and oversize Ladyfish coming north to our area with the early warming water temps, Black Drum and Seatrout becoming more widespread through the backcountry after spending the winter in the deep holes and channels, and small schools of Redfish in the shallows sunning on the chilly days. With the cold water back again I have been fishing a mix of my winter and spring patterns and fishing holes, dropping live shrimp and 3" swim tail jigs into the holes also trying the spring pattern channels and drop offs. This has been a great season for Black Drum here in the back waters, young Logan from Orlando with the best Drum on a trip with his dad and friends, with several caught this day……………..
Rusty from Indianapolis was out with me on a 2 boat Mosquito Lagoon charter with my friend Capt Tony and his boat, we got on a school of Redfish at a shallow flat and sight fished a couple Reds………………..
We were catching a bunch of smaller "runt" Redfish on the edge of a Lagoon drop off when Rusty hooked a good fish being a nice Black Drum……………….
Spring is known for Jack Crevalle here in the backcountry after spending the winter in south Florida, they move back north as the water warms, and can be here in big schools making for lots of fun catch and release action on these hard pulling game fish, Griffin with a good one……………
Shovelnose Hammerhead Sharks are also on the spring menu, we usually catch quite a few through March and April, long time client from Canada Al with a fun Shark……………..
Paige from Orlando with another good size drag pulling Jack Crevalle……………….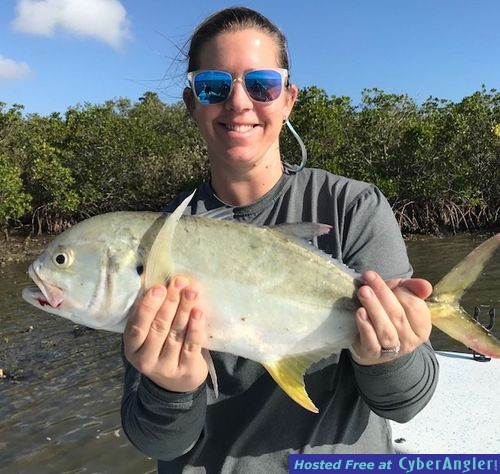 With the cold water holding on late this year, Sheepshead have been an every trip catch as they are a winter fish liking the chilly water, young Andrew from Houston with a fun one……………….
FUN FRIENDLY LIGHT TACKLE FISHING ADVENTURES
Indian River and Mosquito Lagoon Backcountry and Flats Fishing
CHILDREN ALWAYS WELCOME – FAIR PRICES
Near Daytona Beach, New Smyrna Beach, and Orlando, East Central Florida
CALL OR TEXT ME ANYTIME 386-689-3781
See my website http://EdgewaterRiverGuide.com
Capt. Michael Savedow
Edgewater River Guide, Inc. Since 2003
386-689-3781
http://EdgewaterRiverGuide.com
More Fishing Reports: