New Smyrna Mosquito Lagoon Backcountry Oct 2017
Capt. Michael Savedow
October 30, 2017
Mosquito Lagoon - Saltwater Fishing Report

Fall fishing patterns have arrived here in Mosquito Lagoon and the Indian River at New Smyrna Beach, big schools of finger mullet cover the waters surface at first light with Jack Crevalle, Ladyfish, and more busting them with white water crashes, casting lures or bait in the mix for a fast hook up. The water level is still high but pretty clear in the backcountry, the first couple seasonal cold fronts arriving to East Central Florida this week, with north winds, night time temps in the 50's, beginning the process of lowering our water temps as we move towards winter. Cool water patterns emerging in the backcountry like schools of Seatrout bunching up in holes and on drop off edges, also schools of small Redfish beginning to group together, and bigger lagoon Reds will start to school up as water temps drop. Catching here in the backcountry is always a variety of species, lately catches on my trips in addition to the fish already mentioned have included Snook, Snapper, Sheepshead, Black Drum, Flounder, Whiting and Pompano. As always we are also doing some flats fishing, hunting Reds and Trout on the grass flats of Mosquito Lagoon, regular local client Robert was along with me again recently, poling the shallows for sight fishing, always more of a fun but challenging type of fishing, this morning landing several Redfish ……
First time client sisters Barbara and Eleanor came on a cool, windy afternoon backcountry charter, we fished holes protected from the breeze catching the usual different species, Barbara with the best fish of the trip a nice Snook……………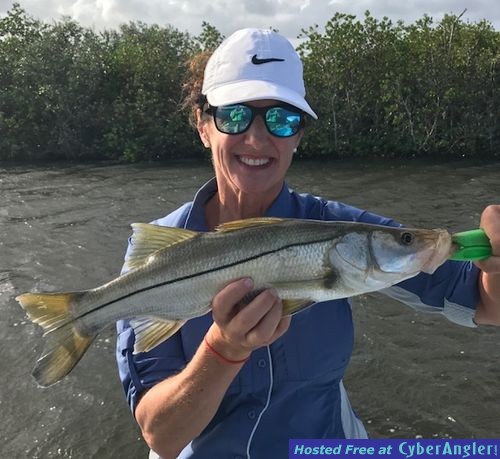 John from Nashville set up a trip for him and his friends when they visited the area recently, choosing mixed bag variety fishing for the lots of catching, the fish cooperated well with many different species, including a nice Flounder caught by Reed……………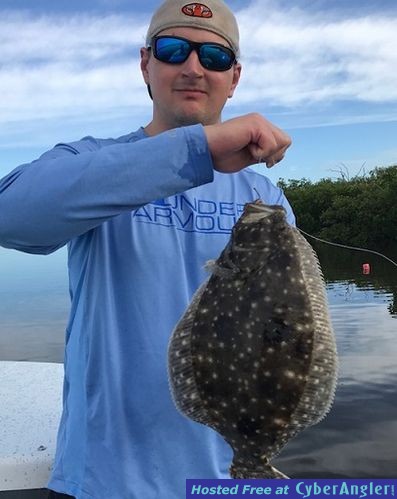 ……...Reed also got the best Trout of the many specks caught………………….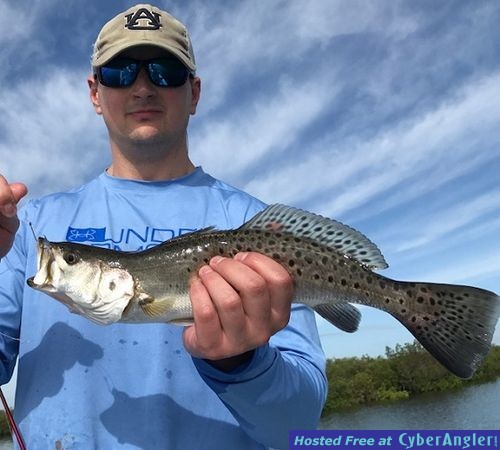 Repeat clients also from Tennessee out on another trip had multiple backcountry slams of smaller size Redfish, Snook, and Seatrout, along with lots of fun Jacks and Ladyfish, dad Randy also caught a couple nice size Black Drum……………….
………….daughter in law Amanda with one of the many good size high jumping Ladyfish caught………………
As the last few years have gone on, Snook have been a daily catch here again after the big freeze years back in the early 2010's was very hard on our central Florida Snook population as Sean found out……………….
FUN FRIENDLY LIGHT TACKLE FISHING ADVENTURES
Indian River and Mosquito Lagoon Backcountry and Flats Fishing
CHILDREN ALWAYS WELCOME – FAIR PRICES
Near Daytona Beach, New Smyrna Beach, and Orlando, East Central Florida
CALL OR TEXT ME ANYTIME 386-689-3781
See my website http://EdgewaterRiverGuide.com
Capt. Michael Savedow
Edgewater River Guide, Inc. Since 2003
386-689-3781
http://EdgewaterRiverGuide.com
More Fishing Reports: