Early Birds Get the Fish in July
Capt. Todd Geroy
July 8, 2015
Naples - Saltwater Fishing Report

I am taking some needed time off this month to recover from recent foot surgery. In the mean time, some good fishing has continued without me and my son Capt. Ben has done a fine job getting our clients on some great fish!
Water temperatures are warm with 88 degrees on the beaches and some of the bay heating up to the 90's. Heavy thunderstorms most every afternoon have hampered any chances of fishing that time of day. That said, Ben has been fishing every morning finding most of the action early with the bites tapering off by noon. Anglers have had good success with large snook, a few tarpon, redfish and big sharks.
Some of the largest snook of the season continue to come aboard for a quick release as they continue their spawning activity in the area. Some of the fish have been running well over 20 lbs. Quite a few smaller snook have been "filling in the gaps" as well as a few redfish and tasty mangrove snapper. Live pilchards have been the best bait to get action, but well presented hard plugs and soft plastic baits will get attention also.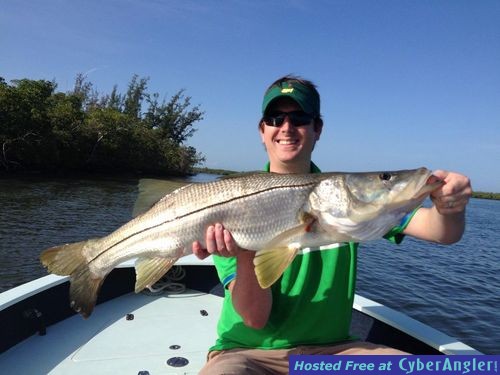 Tarpon continue to show throughout the area both along beaches near bait fish concentrations and in some of the back bays. On a trip last week, Ben guided this young angler to his first big tarpon catch. It was hooked in a bay at least a mile inland and ran all the way to the edge of the gulf by the time it was boated.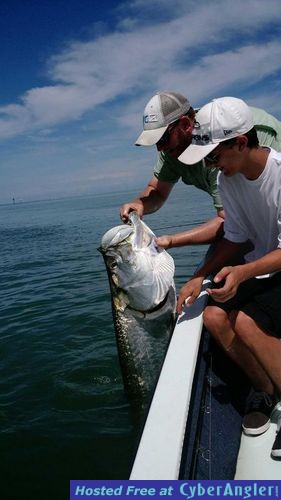 July kicks off our annual discounted monster fishing special. We offer discounted trips for specialized shark fishing trips. Sharks are in abundance and provide some great battles for those looking for a real work out with big fish. Common species we catch are bull, lemon and blacktips that range from 5 to 8 1/2 feet.
- Capt. Todd Geroy
Naples Fishing Forecast:

Action should continue the same for the next few weeks. Early morning will bring the best action especially for those using artifical lures. Evenings can be very good especially just before sunset. Afternoons are for relaxing this time of year.
More Fishing Reports: