Fishing the Spring Transition in the Back Waters
Capt. Todd Geroy
March 5, 2016
Naples - Saltwater Fishing Report

Since my last report, the fishing has taken a turn towards a normal spring pattern as waters have cleared up following two months of windy conditions caused by strong cold fronts. Water temperatures in the backwaters are now approaching 70 degrees opening up multiple opportunities for my anglers.
The biggest issue right now is what to target on a given day with many species available, and what approach to take.
For those looking for some fish for the table, sea trout, sheepshead, mangrove snapper and pompano have been cooperating. Passes, jetties and hard bottom troughs in the back bays have been holding plenty of the fish mentioned. Bottom fishing with shrimp or a shrimp tipped jig will catch anything that swims right now. There are loads of undersized sheepshead around, but we are also catching plenty of keepers and some of the largest of the year.
As waters have started to warm up, I have begun to head out at first light to cast net live pilchards which are candy for some of our larger gamefish such as snook and jack crevalle. The results fishing with these baits have been good providing my anglers with some great action. Last week, we caught and released some beautiful snook ranging to 34 inches and some absolute bruiser jack crevalle that challenge the most experienced anglers!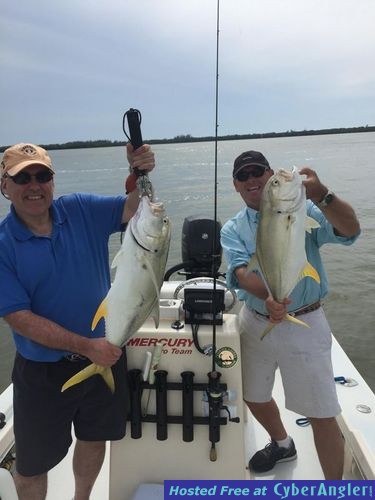 As waters warm up during the next several weeks, the tarpon will be showing up in many of our shallow bays as well as some giant bull,lemon and blacktip sharks. It is time to gear up and be ready to make some memorable catches!
Bring it on!
- Capt. Todd Geroy
Naples Fishing Forecast:

Tarpon, snook and shark fishing will likely heat up in the next week or two as water temperatures continue to rise. It is time to put fresh line on the reels and target some big fish.
Target Species:

snook, sheepshead, mangrove snapper, pompano, jack crevalle
More Fishing Reports: