Naples Winter Mix
Capt. Will Geraghty
February 19, 2013
Naples - Saltwater Fishing Report

Weeks of outstanding Wintertime fishing both on the inshore and offshore fishing grounds of Southwest Florida yielded recently to a short bout of redtide and some of the coldest temperatures of the year. Fortunately CyberAnglers, the environmental and climatic conditions were only temporary as the bite is back on and getting stronger each day!!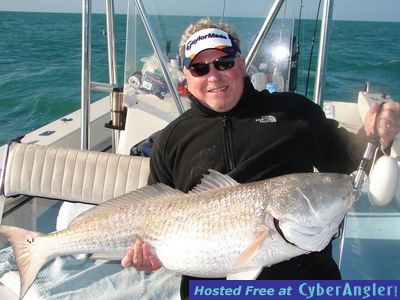 Prior to the latest frontal passage, mixed bag catches were being recorded by the Naples offshore fleet. Aboard "THE GRAND SLAM", we have been fishing "around" the State/Federal grouper closure with solid success on many alternative species such as Mangrove Snapper,Spanish/King Mackerel, Tripletail and Bull Redfish.
Aboard "THE GRAND SLAM", I have been focusing my offshore angling efforts in the 10-25-mile range prospecting the Gulf's plentiful hardbottom areas and wrecks while employing a variety of live/dead baits and metal jigs. Stopping and shopping always staying on the move has been a key ingredient to our success!


Closer to shore, the bite has been solid from right along the beaches into our area passes eastward deep into the backcountry bays and creeks. Live bait, lures, jigs and flies....pick you method and hookup CyberAnglers!
The passes, middle bay flats and cuts have been very kind to my anglers as we have found plenty of Trout, Pompano, Sheepshead and a host of other "suspects" willing to chew on a variety of colorful soft plastic jigs as well as a live shrimp presented under a popping cork. Fast and furious best describes this action!


Over the oyster bars and middle bay islands located between Naples and Marco Island has been the best place to be during the higher tidal stages. Here, good numbers of Redfish, small Snook and some very large Jack Crevale are taking a well placed live bait and jigs sweetened or tipped with a small piece of fresh shrimp or cut Ladyfish. Again anglers, stopping and shopping will pay big dividends in keeping the rods bent.


While the brief redtide outbreak and cold temperatures did stop the outstanding Winter Bite in its tracks, the rebound has been quick and steady. Look for this upward trend to continue!
Hook Up, Hold On and Have Fun CyberAnglers!
Captain Will Geraghty
www.naplessportfishing.com
Naples Fishing Forecast:

Look for the warming trend to hopefully continue and the action to heat up as we rapidly approach March fishing. With Gulf surface temps in the high 60's approaching 70, look for the Kingfishing to become more reliable on the nearshore and offshore waters.
The inshore action will continue with a healthy mix of Redfish, Trout, Sheepshead and Pompano. The Snook bite will return as well in the next few weeks with the Tarpon hopefully close behind.
Target Species:

Kingfish/Tripletail/Grouper/Redfish/Pompano
More Fishing Reports: