Riding the Winter Fishing Rollercoaster
Capt. Todd Geroy
January 25, 2015
Naples - Saltwater Fishing Report

We have had some real solid days since my last report. We have again fished in a myriad of conditions with some overcast days, a few chilly mornings and some very windy days. My anglers have caught a long list of different fish using everything from live bait to jigs to fly rods.
Late last week and earlier this week, I had some anglers experience a real blitz of pompano action in the outside passes near Marco Island. One party caught nearly 40 of these scrappers in a couple of hours on an afternoon trip. Most were released, but a few did make it back with us for dinner. That action seemed to die down my mid-week as water temperatures climbed back into the 73 degree range. All of the pompano were caught on jigs.
We also have been using shrimp along points with shell bottom to catch a few redfish, sheepshead and mangrove snapper. An occasional goliath grouper has been taking the bait giving my fisherman a good battle under the mangrove bushes! Live sardines are bringing a few snook and some larger redfish to the boat along with plenty of jack crevalle. A bit of a headache has been the numbers of gulls and terns attacking the baits from the air. Windy days seem to be the worst.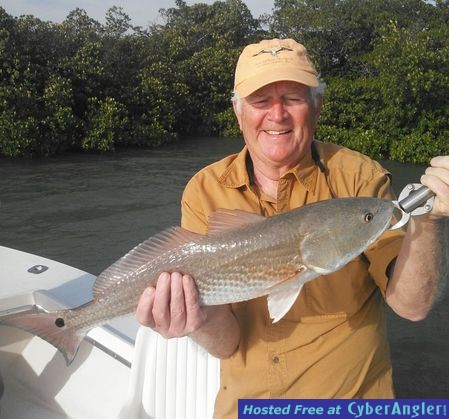 A couple of fly fishing trips this week brought a few snook, pompano and bluefish along with loads of jack crevalle and lady fish. We are using small minnow patterns along the mangroves for the snook action and sinking flies and sink tip fly lines in the channels for the other species.
As I write this today, another cold front is coming through as they seem to each weekend. Strong southerly winds yesterday have turned NW as the cooler air moves starting us on another cycle for next week. I expect the fishing pattern to continue for the next several weeks with the cycle of different species all in the lineup!
Target Species:

snook, redfish, pompano
More Fishing Reports: