September Backcountry Fishing is a "Grand Slam"!
Capt. Todd Geroy
September 4, 2015
Naples - Saltwater Fishing Report

We are merging into my absolute favorite time of year to fish the back waters of SW Florida. The days are getting shorter and soon, the waters will begin to cool off slightly. These factors will contribute to more of an all day bite as opposed to the early day action of the summer months.
Recent outings have been very productive. Tarpon, redfish, snook, mangrove snapper and pompano have all been active. This is a great time of year for anglers to catch the coveted "Grand Slam", catching a tarpon, snook and redfish in one day. We have been able to complete this challenge on several recent trips!
Redfish have become particularly active the last two weeks. I have been finding slot size (18″ – 27″) reds feeding along flooded mangrove edges and along shallow bars and flats at low tide. My anglers have encountered schools of fish where they have pulled as many as a dozen fish out of one small mangrove pocket.
Snook have been everywhere, with most being small fish in the 18 – 22 inch range. They are staged heavily in the passes now as well as scattered all over the back bays just inside of the gulf. We have encountered a couple of monster snook as well, ranging up to 40 inches! One morning on my way to the dock to pick up my anglers, I stopped to make a cast or two and check out a spot. I was rewarded with a somewhat rare catch in our waters. I identified it as the unusual "tarpon snook". After a bit of research, I discovered that it might well have been a species named "fat snook". It is very difficult to tell at a glance the difference between the two. Without counting and comparing the number of rays on the fins and a few other differences, I will never know. A very unique fish however!
My rare tarpon/fat snook...
We are continuing to enjoy action with the juvenile tarpon. Ranging up to 40 inches, these beautiful minutures of the fabled silver kings give anglers great thrills. Amazing jumps, strong runs and stubborn standoffs on light tackle make for a challenging quarry. We have been catching some of them in very tight spaces in remote backcountry creeks, adding to the excitement as these wild fish often jump right into the bushes!
My son Matt with a nice baby tarpon released on 9/3/15...
Last Saturday, I enjoyed a morning with Rob Harrelton of Naples and his friend Dave Crane, visiting from St. Louis. We enjoyed some great action throughout the morning. Dave was treated to some memorable catches. Dave had a strong strike from a giant snook that proceeded to run 75 yards of line through the mangroves and down the shoreline. The 15 lb. test line held up as Dave gingerly finessed the fish all the way back through the cover until the big fish finally got entangled around a large cluster of oyster laden prop roots that extended all the way to the bottom. Not to be shown up by this fish after such a battle, I went overboard, wading into the mangroves and got hold of the beast. Dave, Rob and I celebrated this amazing catch of a snook measuring out at just about 40 inches!
I decided that we has stirred that shallow stretch of bank up, probably spooking anything else in the area. I moved into a narrow creek mouth just 50 yards down the shoreline where I though we might find a tarpon to cooperate. In a narrow space just wide enough to get the boat in, we set up and on the very first cast, Dave came tight again. This time, a very spunky 40 inch tarpon came airborne. After multiple jumps against the bushes and running under the boat several times, Dave managed to wear the fish down and finally boat the wild fish. It was an epic battle in very tight quarters!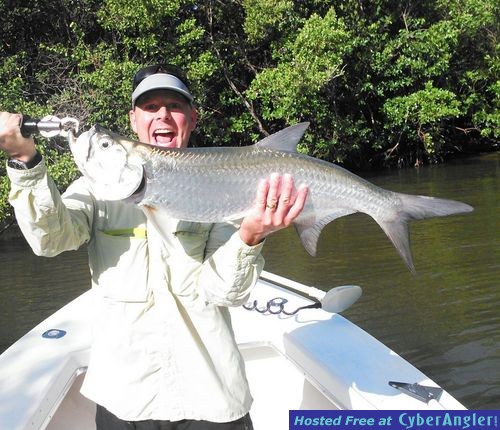 Now it was a quest to complete the slam! We idled across the bay to fish a pocket along the mangroves where I often find redfish on that tide. It took a few casts to get the bait far enough under the cover as the full moon flood tide closed up the pocket, but Dave was rewarded with his redfish. We managed several more redfish from that spot. While it wasn't the largest of the morning, Dave was again thrilled to have completed his "Grand Slam" catch.
I have a busy schedule next week and am looking forward to some more great fishing!
-Capt. Todd Geroy
Naples Fishing Forecast:

I am looking forward to the evolution of the fishing during the next few weeks. Slightly cooler water temperatures will bring even better action.
Target Species:

tarpon, snook, redfish
More Fishing Reports: