Spring Opportunites Bring Big Catches!
Capt. Todd Geroy
April 24, 2017
Naples - Saltwater Fishing Report

I have been on hiatus recently from my fishing reports on Cyber Angler as I have been in "fish, eat, sleep" mode for the last month or two. I am happy to submit this report and share some of the fine fishing that my clients have experienced lately. With spring break and Easter holiday in the last month, I have enjoyed time with a variety of anglers ranging from 6-year-old junior anglers mixed in with my many regulars ranging into their 90's.
Water temperatures are climbing into the happy zone reaching the upper 70's with just a few exceptions following late season cool fronts. With the warm up there has been an abundance of bait fish moving in followed by bonito and kingfish within 1/2 mile of the beaches. Free-lined pilchards and jigs cast into schools have produced some line ripping action.
I have been heading out in the dark before my trips daily and throwing the cast net, blacking out the live well with live sardines. These baits are key for the greatest success this time of year.
We have found plenty of eager snook scattered all over the back bays as well as in the passes and blow down structure on the beaches willing to bite the frisky baits. Some 1/2 day trips have hooked upwards of 40 snook. A majority of the fish have been running in the 22-25 inch range. Moving water has been the key for snook activity both on the incoming and outgoing tides. There are often some arm busting jack crevalle mixed in with the snook!
Redfish activity has really heated up with some nice slot fish caught as well as many over slot fish released up to 31 inches. Higher tide phases are providing the best action.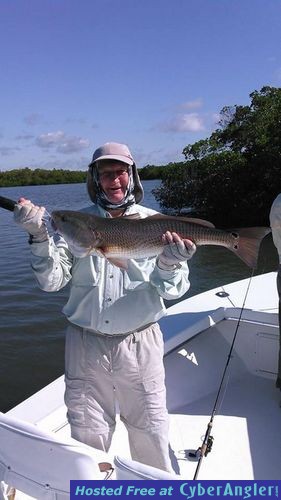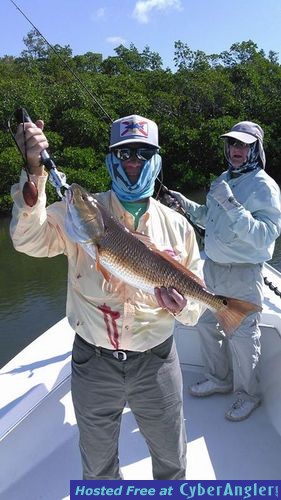 Tarpon of all sizes have been on the roster. I have had success with juvenile tarpon in the 12 to 25 lb. class along some of the mangrove banks in the back country. They eagerly take live baits as well as plugs, jigs and soft plastic baits. Great fun on light tackle!
Big tarpon are here! Last Friday mornings' trip produced a monster tarpon for Caitlin with a fish that probably topped 135 lbs. It was released after a long battle in the back country in 4 feet of water. Tarpon fishing should only get better during the next few weeks. We target them in the bays as well as along area beaches for the next couple months.
Big sharks are all over the back bays right now. Giant lemon sharks to 9 ft. along with hefty bull, blacktip and hammerhead sharks are easy targets and provide some heavy action for those looking for a workout!
All in all, you just can't beat this time of year for some of the best fishing our region has to offer.
-Capt. Todd Geroy
Naples Fishing Forecast:

Looking forward to more big tarpon during the next weeks. Larger snook should start stacking near the passes getting ready for the annual spawning activity.
Target Species:

Tarpon, Snook, Redfish
More Fishing Reports: