A Warm Start to the New Year Brings Unusual Winter Opportunities
Capt. Todd Geroy
January 8, 2015
Naples - Saltwater Fishing Report

I am writing this report from the warmth of my den this morning after a strong cold front has swept through overnight. Lows in the 40's this morning along with winds gusting to 30 mph are keeping me off the water this morning. This type of weather is more common this time of year than what we have experienced the last two weeks. Unseasonably warm weather settled in around Christmas and really turned the fishing scene around.
With the warming trend, the usual winter targets such as sheepshead, black drum, mangrove snapper and pompano faded away. I found fewer and fewer as the waters warmed from the low 60s to the mid 70's.
We experienced a return of good bait fish and I have been venturing out each morning to cast net sardines by the hundreds. Using live bait, we have been catching as many as 25 snook on some trips with a few fish running in the 30 inch range. Some nice redfish have also been caught, although the are more scattered than the snook. Several recent trips had some great catches of sea trout using the same baits. The jack crevalle are everywhere and always give plenty of action.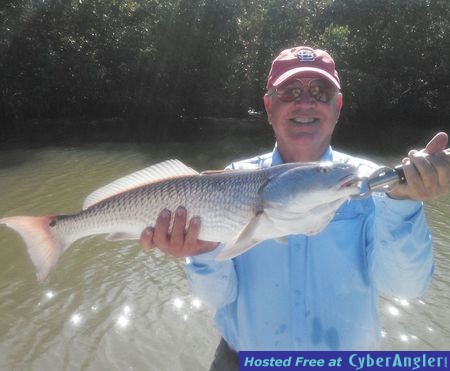 .
Yesterday morning before the front came through, I took my guests into a deep, narrow creek on a blow out low tide. We sat in one spot and jumped 7 juvenile tarpon, boating 3. We also released at least 25 snook to 32 inches along with countless jack crevalle and a few goliath grouper. An amazing morning of fishing for this time of year!
-Capt. Todd Geroy
Naples Fishing Forecast:

With the weather changing again, I expect water temperatures to drop off rapidly at least over the next couple of days. This should push trout, pompano and other more seasonal fish into deep back country channels and holes creating more of a normal pattern for January.
Target Species:

snook, redfish, trout, baby tarpon
More Fishing Reports: