Fall Fishing Snook, Red-fish, Spotted Sea Trout Slam Time
Capt. John Fischbach
October 9, 2015
New Port Richey - Saltwater Fishing Report

Tarpon Springs Fishing Guide Capt. Rich Knox, of Absolute Florida Flats Fishing, a Guide Service on the West Central Florida Gulf Coast for over 23 years reports very good fall fishing for Red-fish, Snook and now the larger Spotted Sea Trout are beginning to show up after the years 1st baby cool fronts lowering the water temperatures mixed with the invasion of the spawned bait-fish returning to the flats.
I Had the pleasure of Tony Cintron and his 18 year old son Nick, for a 1/2 Day Flats Fishing, we had a little trouble with the bait run but managed to get plenty good pilchards and caught a bunch of nice Red-fish !!! They just moved here from Maryland, there very first time out on our flats ! This is the time of year when the big out of slot Red-fish move inshore to spawn along with the general population of slot fish and smaller already residents here. during this ritual they are feeding heavily on the returning pilchard's from offshore also coupled with the falling water temperatures the bigger Spotted Sea Trout and Snook begin to move into the flats and feed heavily too.
Over hanging mangrove tree branch's pothole laden shoreline on these flats is a great place for them to ambush a fresh caught pilchard swimming aimlessly along. Our tackle this time of year is light spinning 7'10" Loomis Rod, with a 3500-4000 Diawa Lexa reel, spooled with 10-15 lb. test Spider Wire Ultracast braid, finished off with 20-30 lb. fluorocarbon leaders 4′ plus, tied line to line with a Gamagatsu live bait hook from a number 1 to a 3/0 depending on the size of bait-fish your using. Try fishing all the Mangroves, Dock's in our estuary systems, shell points, rock piles and oyster bars on the inshore flats and if your patient and take the time to cast net up 300-500 fresh baits you can improve the action by live chumming a handful or two of thes sought after baits ! TIGHT LINES !!!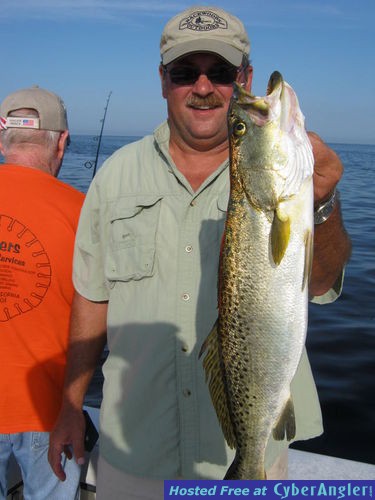 New Port Richey Fishing Forecast:

This great fall fishing pattern will remain in our region until Mid-December.
Target Species:

Snook, Red-fish, Spotted Sea Trout
More Fishing Reports: