Spectacular Spring Fishing is in Full Swing !!!
Capt. John Fischbach
March 18, 2016
New Port Richey - Saltwater Fishing Report

1/2, 3/4, and full day Fishing Charters have been producing large numbers of quality fish on the West Central Florida Gulf Coast including Fishing Charters out of New Port Richey, Tarpon Springs, Port Richey, Hudson, Clearwater Charters and Fishing Charters out of Dunedin, Reports Captain John Fischbach of Absolute Florida Flats Fishing, a Long Time Florida Gulf Coast
Vance with a Gator Trout!!!!!
Fishing Guide Service. Snook Fishing, Red- fishing and Trout Fishing has been providing non-stop fish catching! The Pilchards are back and they're here to stay making live bait fishing an adrenaline rush, as you watch the fish feed on this magnificent baitfish on and below the surface! Snook pops, Redfish charges and Trout slurps are very exciting to witness! The Tarpon are on their way, on the full moon next week they will begin their migration. Many lifelong lasting memories have been captured in the past week, both in pictures and embedded in memory for both family fun, old friends meeting up to rekindle college friendships from 40 years ago to business buddies having a great time in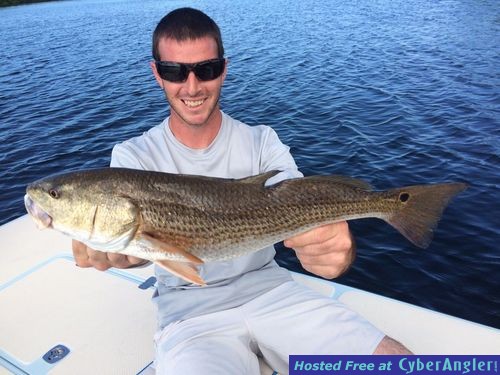 Vance got his inshore slam with this slot size Redfish!
the backcountry, along the shorelines and mazes of mangrove estuaries as the fish come out to feed! Now is the time to book your fishing adventure! Contact us to check on availability!! Deep Sea fishing is Really turning on, with water and air temperatures rising, the pelagic fish are invading our waters and the reef fish are chewing hard right now! As the waxing moon (Full Moon) approaches, every fish that swims the Gulf Of Mexico will be present and wanting to feed from backcountry fishing, flats fishing, nearshore fishing, bay fishing, offshore fishing, including reef fishing for Grouper, Snapper, Amberjack and all the rest of deep water fish. Wreck fishing and Florida Middle Grounds fishing– Folks, if it swims, now is the time to get a charter with us and catch it!
Captain John Fischbach
Contact Us
Name*
First

New Port Richey Fishing Forecast:

Fishing is just going to get better and better as the bait migration improves !!!
Target Species:

Snook, Red-fish, Spotted Sea Trout, More
More Fishing Reports: