Trout Fishing Red Hot !
Capt. John Fischbach
December 19, 2015
New Port Richey - Saltwater Fishing Report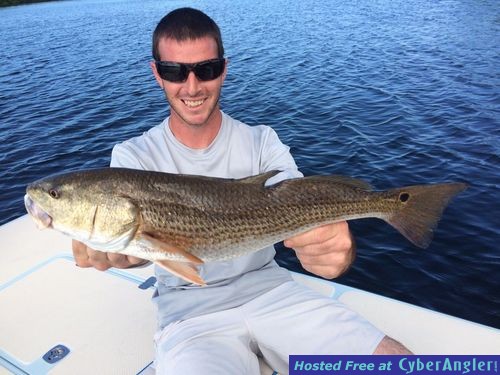 Absolute Florida Flats Fishing a Longtime Guide Service for the West Central Florida Gulf Coast serving the Tarpon Springs, New Port Richey and Clearwater Florida, area reports Outstanding Spotted Sea Trout Fishing ! The Water temperatures have fallen into the 60's with the shorter day's and cool mornings. Live baits as well as artificial bait's are both working well, we finally are starting to see some cool fronts moving all the way through our region, the
Trout are moving inshore from there nearby summer like homes off our barrier island beaches. They can be found from the barrier islands all the way back to the main shoreline and deep in some estuary systems. Best live bait if you can find it easily are pilchards and or live select shrimp, (purchased in your local tackle/bait store)
my favorite artificial lure this time of year is the 1/4 oz. jig tipped with a Berkley Gulp shrimp imitation or a paddle tail swim bait in the green back variety ! Followed closely by Mirro-Lures mirro-dine a subsurface plug that imitates a pilchard perfectly ! Jerk- Shad also by Berkley Gulp rigged Texas style are a favorite up on the flat fishing the pothole laden areas on high tide. Deep holes on the flats are excellent places to look for these flats after a cold blow, as the deeper water will most likely be just a few degrees warmer. TIGHT LINES, DON'T FORGET YOUR JACKET !!!
Target Species:

Spotted Sea Trout, Redfish, some Snook
More Fishing Reports: