Backcountry Redfish & Black Drum
Capt. Drew Cavanaugh
October 31, 2015
New Smyrna Beach - Saltwater Fishing Report

November 1st, 2015 Mosquito Lagoon Backcountry Fishing Report


The Mosquito Lagoon, Indian River, Banana River and the backcountry waters here in east central Florida have been the main focus of flats fishing and sight fishing charters. Great numbers of spotted seatrout, redfish and a few black drum have been caught daily. Mixed in have also been smaller tarpon, jacks and a few lady fish too. As fall begins to settle into winter the fishing will just improve, along with the great weather we see here in Florida during this time of year.


Fall this year has brought us some higher waters than normal, so with this in mind it has spread your targeted fish out a little bit more than usual. Redfish have gone up onto grass flats into the far backcountry that are normally either dry or do not have enough water on them at all. Seatrout will follow that same pattern as will the black drum. They do this to take advantage of the new feeding grounds they did not have access too before the high water moved in.


Take advantage of the high water while you can. One thing that this will let you do is see new areas that you most likely don't see very often. It may not be fish but nature in general. Just be sure to use caution and your push pole in and out. This will save your boat and the grass flats there. DO NOT run these flats, please. The damage that can happen is not good for anyone, especially the grass.


Use the same tactics that you would use under normal conditions for searching, casting to these species on any other day on the water. Redfish and sea trout are hitting the DOA Shallow Running Baitbusters and Airheads at first light. Then still feeding fish I like to use either a DOA Shrimp or CAL. Maybe a small bullet weight added for that extra push on distance. Just use as always a soft presentation and make sure your targets are within range. Do not push yourself on distance or you can compromise your accuracy and the presentation. Meaning take that extra time and get closer, but your accuracy will have to be better due to you will have less chances to reel in and make the cast again. Black drum have been great on fly or live shrimp. They will be mixed in as well.


Captain Drew's Cell: (352)223-7897


or


email
captdrew@floridainshorefishingcharters.com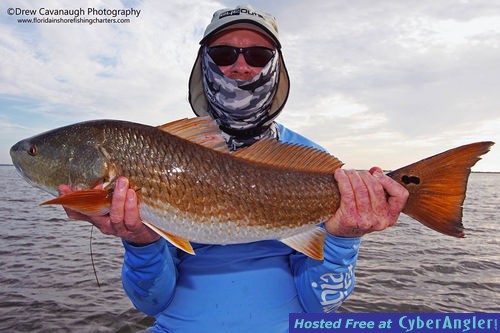 More Fishing Reports: