Feb 2021 New Smyrna Mosquito Lagoon Backcountry Daytona Orlando
Capt. Michael Savedow
February 26, 2021
New Smyrna Beach - Saltwater Fishing Report

We have had a nice chilly winter so far in East Central Florida, as the water temperature dropped into the 50's F, the water became very clear, is great to see down into the water 6 feet deep showing the drop offs and holes. Our winter cold water pattern is a bit different than the rest of the year, fish can be concentrated more, both in deep spots, and also on shallow flats which are warmed by sun shine. Down in the winter holes can be Sheepshead, Black Drum, Seatrout, Mangrove Snapper and others, in the shallows can be Redfish, Snook, Seatrout, can also catch fish on the drop offs, in winter, schooling Bluefish can be near deeper water with tidal currents. Black Drum are a usual target fish in the Mosquito Lagoon backwaters, most are small to medium size as far as Drum go, first time client Georgia out with her husband caught some fun size Black Drum out with me …………..
Kimberley from South Carolina also got a nice size Drum out of a deeper hole on a recent trip into the backcountry ……………
You never know when a surprise catch will come to the boat, this time Chris from Asheville, North Carolina was catching a couple Pompano when a pomp cousin bent his rod and turned into a nice Permit …………..
Joey from Pennsylvania got a kick out of catching a fun little Shovelnose Hammerhead Shark, a good battle on my little backwaters spinning rod ……………..
Not many Jack Crevalle are here in winter as they move further south once the water gets cold, big schools of them will return in spring as the northward migration begins with warming water, but a few are here even in winter, Jon from Indianapolis with a fun size Crevalle …………….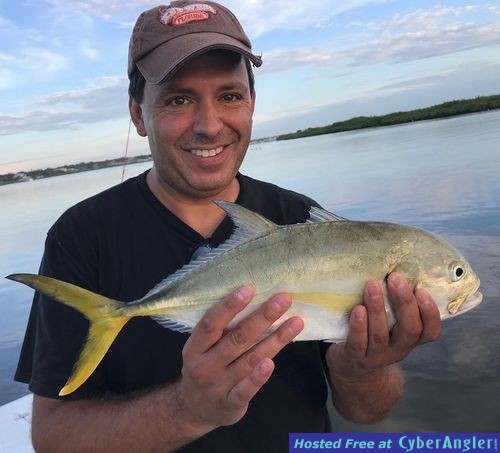 Fun Friendly Light Tackle Fishing Adventures
Closest Saltwater Fishing to Orlando at New Smyrna Beach
Calm Water Indian River Backcountry
CHILDREN ALWAYS WELCOME – FAIR PRICES
CALL OR TEXT ME ANYTIME 386-689-3781
https://EdgewaterRiverGuide.com/orlando-fishing-guide
Capt. Michael Savedow
Edgewater River Guide, Inc. Since 2003
386-689-3781
https://EdgewaterRiverGuide.com/orlando-fishing-guide
More Fishing Reports: