May 2020 New Smyrna Lagoon Daytona Beach Backcountry
Capt. Michael Savedow
May 29, 2020
New Smyrna Beach - Saltwater Fishing Report

Finally starting to get a few charters again after a slow month of social distancing, locals, Central Florida residents, and people with local properties in the family have been returning to visit the East Central Florida coast. In spring the first of the migratory species make their way north along the east coast of Florida after spending the winter further south, schooling inshore coastal migrating fish include Bluefish, Jack Crevalle, Ladyfish, Pompano, Spanish Mackerel, they travel in schools following the temperature increase, so the exact timing is different each year. One of the most exciting of the sub tropical species which come north in spring are Tarpon, occasional full grown Silver Kings from 50 to 100 lbs., but most of the intracoastal fish are younger in the 10 to 30 lb. Range. Denton and friends from Eustis, FL were out with me catching many different backcountry species when this 38" Tarpon crashed the party and was landed after a good fight …………...
On another recent trip Rudy was throwing an artificial soft plastic and caught a fun size Snook with a few jumps during the battle ……………
Ashley from Minnesota caught a nice Pompano along with Jack Crevalle and other fish species on a mixed bag variety trip in the back waters …………….
Repeat client Al from The Villages with a fun size little Redfish among the mixed bag catch …………..
One of the spring fish that can come out of the ocean into the intracoastal waterway on their way north are Spanish Mackerel like this toothy fish caught by Paxton from Apopka FL under the big bridge in New Smyrna Beach on the first cast this morning ……………..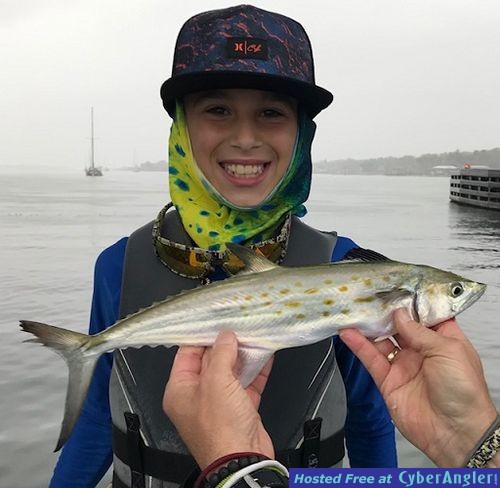 Long time repeat client Steve from Kansas City caught a fun size Black Drum a little while back along with lots of other species ……………….
FUN FRIENDLY LIGHT TACKLE FISHING ADVENTURES
Indian River and Mosquito Lagoon Backcountry and Flats Fishing
CHILDREN ALWAYS WELCOME – FAIR PRICES
Near Daytona Beach, New Smyrna Beach, and Orlando, East Central Florida
CALL OR TEXT ME ANYTIME 386-689-3781
See my website https://EdgewaterRiverGuide.com
Capt. Michael Savedow
Edgewater River Guide, Inc. Since 2003
386-689-3781
https://EdgewaterRiverGuide.com
More Fishing Reports: