April in Panama City Florida means big Trout and redfish, and lo
Capt. Rob Womble
April 20, 2008
Panama City - Saltwater Fishing Report

The water has cleared up and the Trout and Redfish bite is just getting better. We have had a slow day here and there but for the most part the bite is very good. This year we have already caught multiple trout over 5lbs and we are consistently catching trout in the 2 to 3 lb range. The redfish bite is also pretty good, but then again those guys are up on the flats all year long. The last couple days the tides have been moving real good with the full moon. That has been both good and bad. The water got so high that the reds were able to push way up into the flats. That's bad for the guys with a deeper draft boat but good for the guys like us who have shallow drafting boats. These are the perfect conditions to see and catch those tailing redfish.
Here is what they are biting on, Cajun Thunder popping corks rigged with a 1/4oz jig head and a Gulp shrimp in your favorite color. Rig the jig head approximately 18 inch below the float. Cast it out and work it back to the boat popping it from time to time. Works best in about 1 to 2 feet of water. Up on the flats a Gulp sinking minnow, chartreuse or white. Don't add any weight to that rig. The sinking minnow is heavy enough to cast if you are using the right setup. SPRO topwater plugs in a gold or bone finish. Gold spoons any make ¼ to 1/8 size.
OK I could tell you we are catching or going to catch BIG trout this year but I won't. I'll show you. Enjoy the pictures.

Any question as to how shallow we fish can be answered with this photo!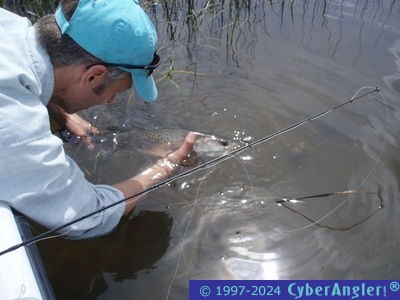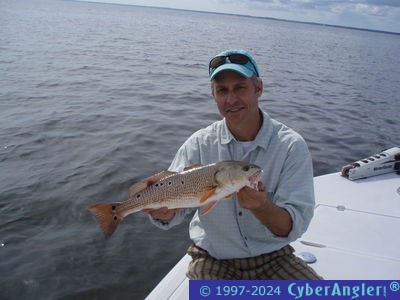 Even the kids are catching huge trout.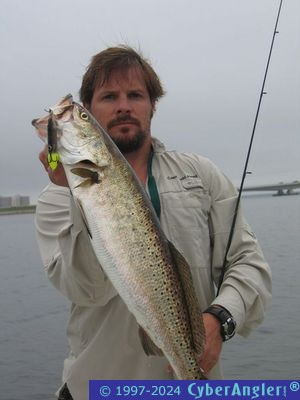 Trout like these are common up in the shallow waters we fish. If you want a realistic shot at a very nice trout give us a call. We won't put you in a chum slick and hope for the best. We will take you to where the big fish are and you will see what you are casting to.
There are a lot of weekend boaters and jet skiers our there so catch out for the other guy. Also remember to try and be a good sportsman and don't push in on other boats while they are fishing. You wouldn't want them to do it to you. Good luck on the water.
Capt. Rob Womble & Capt. Todd Jones
Back Bay Adventures

Panama City Fishing Forecast:

The trout and redfish bite is only going to get better on the flats. All these BIG trout we are catching are coming in for the spawn. This will last for a while so your chances at that really bib trout is still good. Just remember you have to be shallow, get them where they live eat and spawn.
More Fishing Reports: