Fall is in the air in panama city
Capt. Scott Fitzgerald
August 31, 2009
Panama City - Saltwater Fishing Report

As summer comes to an end and fall begins. I begin to think of what's in store for us my mined races with the prospects of the fall run large schools of large bull red fish. Trout gathering at the canal edges and flats eating anything that swims in preparation for winter.
Or the flounder migration that happens in October catching large number of this great eating flat fish.
But best of all are the king's fall run.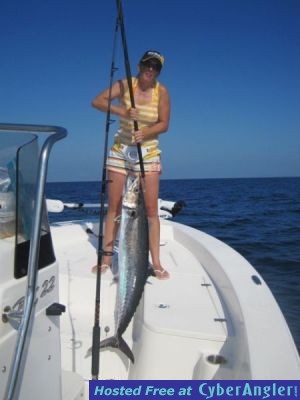 I don't know why this fish gets me so exited maybe
It's the way it strips off drag or the way it turns and runs at the boat making every one
Scrambling to get out of the way. Or maybe it's the way it busts the bait shooting into the air some times 6 to7 feet out of the water there is nothing cooler than a fish that puts on a show like that. Don't get me wrong I love nothing more then watching a red fish blow up on top water bait. But when a 4-foot long toothy monster chases your bait out of the water and eats it in the air in front of you there is nothing like that. The best part is it can happen over and over again in a day all day long now that's cool.
The amber jacks have been real eager to bite however Just recently we have had some trouble finding fish that are willing to come up on top to eat. We have had to drop down to find them not really the way I like to fish for them. I am all about seeing the bite.
Lot's of storms lately making fishing a little tough.
However we have been in for a real treat lately the mahi mahi / Dorado have been showing up. If you find a weed line or any thing floating give it a try as it may hold some nice fish. Here is summer white with a nice fish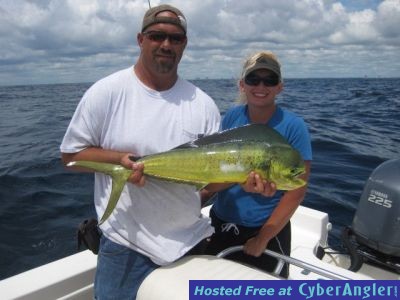 .
We have also got some cobia lately most short but some keepers. All have been returned to the water for next year.

There have been lots of small kings with a few big ones mixed in and also a lot of large Spanish all over the Whistle and weather buoys trolling live bait is your best bet for them. How ever lots of folks prefer to anker up and cast live bait to them. But if you do this try to use as small a leader as you can as the fish can get a better look at the bait when its not moving so fast. As you will see there is lots of bait already waiting for you when you get there so don't forget the sabiki rigs and catch them up
.
Snapper season is now closed and we are catching some big ones.

The grouper started to bite after the tropical storm but have slowed down again.
This fish has really suffered over the past few years due to the snapper fishing closing and grouper remaining open and the fact that until last year you could keep 5 gag. Once the snapper closed everyone targeted this fish. This is one fish that in my eyes is in a lot of trouble we must do every thing possible to restore this fish to are waters if that means a moratorium then so be it but it better be on all of us not just the recreational fishermen and women.
This is a great time of year to fish as most of the tourists have gone home. It is all so a good time to book a fishing trip there is a lot less pressure on the fish and the hotels are empty so call one of the local guides there are a lot of good ones down here. And book the fishing experience of a lifetime. Until next time tight lines and bent poles to all!!!!
Panama City Fishing Forecast:

More Fishing Reports: