Panama City Beach Offshore Light Tackle Fishing
Capt. Todd Jones
August 23, 2015
Panama City - Saltwater Fishing Report

The fishing has been on fire for the last week. I can't remember when the Mahi fishing has been this good. It's been so good I told all my clients this week we were going to catch all they wanted. We have been finding them on random floating objects and catching all we want. There have even been a few Sailfish in the mix.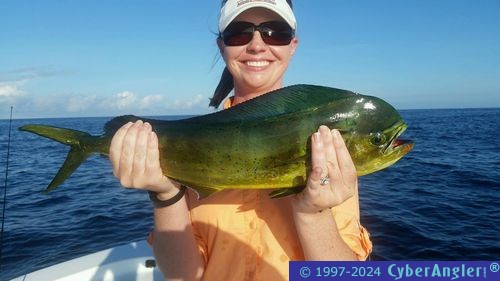 Talk about fun, catch these on trout fishing tackle is a blast. Most have been in the 2-4 pound class but we also have had several much larger ones. This is some of the best eating fish as well.
Hopefully they will stay around for a while. If not there is lots of other species to target.
Don't forget to call early if you would like to catch Red Snapper on the weekends starting in September.
Capt. Todd Jones
panamacityinshore.com
backbayadventures.com
850-819-5829
Panama City Fishing Forecast:

RED SNAPPER STARTS IN SEPTEMBER
**WEEKENDS ONLY**
Target Species:

FISH/FUN
More Fishing Reports: