Panama City Beach Tarpon
Capt. Kyle Pitts
May 29, 2009
Panama City - Saltwater Fishing Report

The weather is right and the tarpon are swimming high and happy. After jumping a couple of fish, things came together and we finally got one to the boat. For the next two months I be be spending alot of time chasing these fish, during the peak its nothing to see over 200 fish a day with countless shots. So jump aboard and let me put you in front of these monsters for a memory of a lifetime. When the weather is bad and I stay in the the bay the bite has been excellent. We've been cathcing a ton of spanish and trout even on the fly rod. Thanks for reading and enjoy the pics.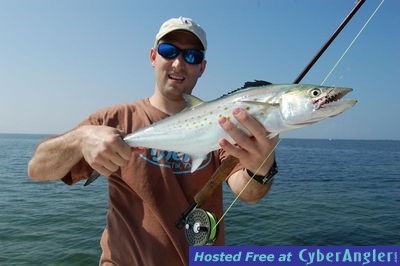 Panama City Fishing Forecast:

Everything is in full swing and the weather looks great.
Target Species:

Tarpon,Jacks,Spanish,Trout Redfish
More Fishing Reports: