Panama City Florida Fishing "Specs and Reds"
Capt. Rob Womble
June 18, 2012
Panama City - Saltwater Fishing Report

This last week or two has been great for the inshore/flats fishing. The trout are everywhere and the reds are hanging in the usual spots. As always I have been starting out with a topwater or a popping cork and switching to a suspending plug or a soft bait as the sun gets up a bit. The afternoon fishing has been good too. Try hitting the creek mouths as the tide is falling. The fish will stack up on the outside or right in the mouth waiting for the baitfish to get pulled out by the tide.
On the open water Capt. Todd has been pulling in the red snapper, Kings, Spanish, and more. This is the time of year that you can go out on the big water and catch just about anything.
Here are some pictures from this weeks action.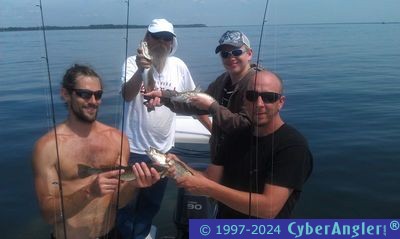 For more photos check out our website at www.backbayadventures.com
As always good luck on the water and in the woods.
Capt. Rob Womble
&
Capt. Todd Jones
Panama City Fishing Forecast:

Great!!!
More Fishing Reports: