Panama City Redfish Bite is on Fire!
Capt. Rob Womble
May 19, 2009
Panama City - Saltwater Fishing Report

The water is warm and the redfish bite is hot! As you can see in the pictures we are pretty much staying with the top-water plugs and the redfish have been more than happy to play along. The only decisions we have had to make are what color and size of top-water plug to use. The rest is up to the fish. Capt. Todd has been running most of the trips last week seeing how I was in South Florida fishing in Fort Lauderdale catching snook, tarpon, jacks and snapper and having a great time. Capt. Todd says the usual spots are producing large numbers of redfish. Even though the water is still a little stained the reds won't be hard to find. Pretty much anywhere along the shallow water flats is where you're going to find the reds. We have been seeing a lot of tailing reds on the falling tides and in the evening so for you fly fishermen out there, try tying on an off white or copper colored bend-back or popper and you should do alright. Spoon flies have also been producing quality reds as well.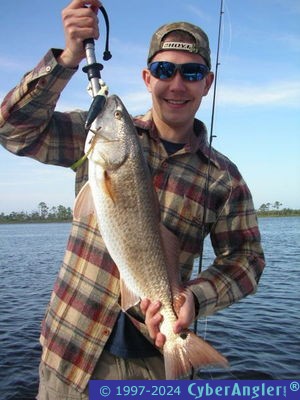 The trout bite is as good as it has been all year long. We are seeing big fish coming to the boat on a regular basis. The same top-water plugs that are catching the reds are also tagging the trout. Morning pattern usually finds us setting up at the mouth of a creek or bayou looking for schools of baitfish getting hammered by trout, bluefish and redfish. Try to keep your distance and make long cast so you don't bust up the school. We are using 8lb line with 12lb leader on 7 foot medium action spinning rod. This will let you make long cast with lighter plugs.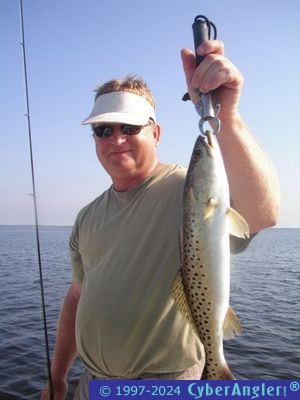 Don't rule out the mid afternoon redfish pattern. Although the temp can get a little hard to handle the redfish will usually take a soft plastic bait or a smaller gold spoon. Look for them hanging out tight to the grass in very shallow water. Set up with the wind and let it push you down the flats. This will ensure you do not have to use the trolling motor as much which will normally end up spooking the fish.
As always good luck on the water.
Capt. Rob Womble & Capt. Todd Jones
Back Bay Adventures.

Panama City Fishing Forecast:

The trout and redfish bite is going to be great for the rest of the summer. Bluefish, ladyfish, jacks and spanish will be in the bay in large numbers as well.
More Fishing Reports: