Destin Inshore Fishing with Captain Brant Peacher
Capt. Brant Peacher
October 1, 2009
Pensacola - Saltwater Fishing Report

As some of you may know the IFA redfish tour is coming to Orange Beach Al, mid October. My redfish partner and I decided to get an early start on the competition so we chose to spend a relaxing day prefishing in beautiful Destin Florida. Destin has turned into one of the premier sightfishing areas along the Fl panhandle. We had beautiful weather, gin clear water, and lot's of fish. What a better way to spend your first day of prefishing.

We had constant action all morning, boating lots of decent flounder, several very nice trout, and about 15 small reds. We saw about 100 fish just not the ones we are looking for. Most of the fish we caught ranged from 16 to 21inches. We don't get a chance to do much prefishing together because of work so every day we can spend on the water is beneficial to our tournament success. Nothing prepairs you for high level competition more than time on the water.

Hopefully this cool water will move the fish into the upper bays within the next two weeks. Thats my home turf!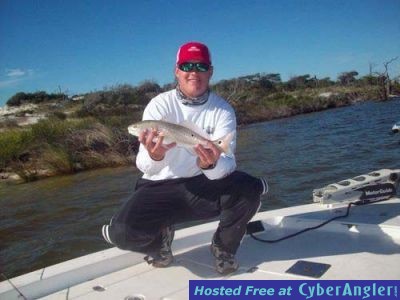 Capt Brant Peacher
Emerald Coast Fishing Excursions
Target Species:

Redfish
More Fishing Reports: