Gag Grouper Bite on Fire in Pensacola Bay
Capt. Chris Phillips
May 5, 2011
Pensacola - Saltwater Fishing Report

The gag grouper and red snapper fishing in Pensacola Bay this past fall was something we thought was abnormal and would never be that good again, but boy were we wrong. A few weeks ago we started hitting the bottom spots again and it's out of control right now.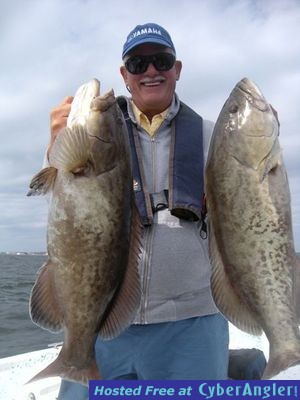 We only have the remainder of this month to keep the gag grouper because the state waters will be closing along with the federal waters that are already closed. The good news is that Hot Spots Charters does this style of fishing twelve months out of the year and just releases them when the seasons are closed.


So even if you don't get to take any snapper home, you will have a picture to show off to all your friends. We ordinarily do a combination of bottom fishing and other types of fishing when the seasons are closed, that away you have dinner to take home as well.


If you're going out to try it on your own finding the right spots is the key. One of the best ways to locate spots is to troll around off Fort Pickens with diving plugs and keep a super close eye on your bottom machine. This away you're looking for spots, but not completely wasting the day.


Once you find structure its easy! We use jigging combos like the Avet 5.8 and Tsunami jigging rods along with 50-80 braid. I know it sounds heavy, but we aren't fishing for the little ones. A number of different baits work, but we prefer live croakers or dead butterflied menhaden.


Just rig up using a typical Carolina rig with a 3/0 – 7/0 hook depending on the size of the bait. We also don't go light on the amount of lead, usually use either a 6 or 8 ounce.
See you on the water!
Captain Chris Phillips
Hot Spots Charters
www.hotspotscharters.com

Target Species:

Gag Grouper & Red Snapper
More Fishing Reports: