One of THOSE DAYS!
Capt. George Howell
May 22, 2008
Pine Island Sound - Saltwater Fishing Report

All anglers are no strangers to "one of those days". You know the kind when the fish don't bite, the weather stinks, and you wish you had stayed home on the couch. Well when you take the time to get on the water often enough, you also experience a few of "one of THOSE DAYS!" That is the kind of day I had with brothers Bob, Ken, Todd, and their father John. Friday we set out during the peak of tarpon season here in Pine Island Sound. The guys are no strangers to the area, having fished it for quite a while now. They are very avid anglers, and if there is one type of fish they prefer to catch…it would be BIG fish! Last year Bob pulled up a goliath grouper in the 400-pound range. Kind of hard to get bigger than that! Well they opted out of tarpon fishing, and decided to swing at snook and crevalle jacks, keeping in mind that if we got a few nice jacks in the well, we could try the monster goliaths again.
With two live wells full of large threadfins for bait, we headed to an intersection in the Cape Coral canal system that often holds large numbers of jacks. About 60 seconds after throwing out a few live chummers, the water began to erupt violently with jacks from 4 to 15 pounds. It was only a minute to so and Todd was hooked into a rod-bending, drag-screaming 14.5-pound jack. This one was a little large for bait to goliath fish so we set it free. However, the guys had a friendly bet on the largest fish that was not a goliath grouper, and this was a good start for Todd.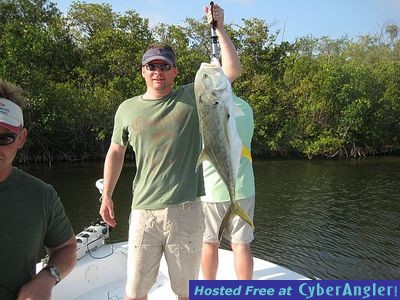 The guys proceeded to pull in quite a few jacks, and we loaded about 5 into the live well and headed out to the inlet to try our luck with some REAL fish. Our first 45 minutes or so was really slow, as we only had one taker that broke the line off in the structure fast. We moved about a mile or so and after a short while, had our butts handed to us repeatedly until we were out of bait. The big fish did not seem to mind if the jacks were alive or dead, and would come back for a second shot if the hook didn't set and we pulled the bait away. Already on the water and having had a good time with jacks and fooling with Goliaths, we decided to take the ride back to Jack City, and get a few more baits. We just couldn't stand being beaten repeatedly by those fish, we had to have the last laugh. With two new wells full of threadfins, we got the jacks going again in short order, and boated more "bait". As we were trying to get one or two more jacks in the well, John hooks into a nice fish that jumped out of the water and I hear the brothers yelling "SNOOK!" Well, immediately after that the handle broke on the reel, and we proceeded to hand line the fish in. Turned out to be the biggest snook caught on my boat in a year and topped at about 15 pounds and 36".
After a few high-fives, it sunk in that Todd just lost his big fish of the day to his dad, which he thought he had safely in the bag! We loaded up on a couple more jacks, a couple 5 pound snook, and went back out in search of our own personal discovery channel visit with one of Mother Nature's extraordinary creatures.
Well it did not take long to have our tail handed to us again. We lost a few hooks to the structure, and pulled a few out before Todd hooked into a goliath. I started backing the boat away from the structure slowly, and it looked as if we had the fish out. The rod wasn't bending like a 500-pound fish, but after getting robbed so much I was happy to be hooked up. Just then, the fish must have realized it was hooked, turned its head and in an instant yanked Todd and his brother Bob (who was spotting him) to the floor of my boat! The line broke and we licked our wounds one more time.
I think the brothers started to take it personally, because a couple drops later Bob was either hooked into a really big fish, or planet Earth was on the line swimming below the boat. With both brothers spotting him, Bob got that fish up and beside the boat as we all ended up soaked by a few flicks of the tail. We managed a couple of quick photos as we were able to get the hook out without keeping the fish for more than a few seconds. We did not take a length/girth measurement because we wanted to get the fish back to it's home quickly, but I estimate the fish was over 400 pounds, and probably closer to the 500 pound mark, it was HUGE!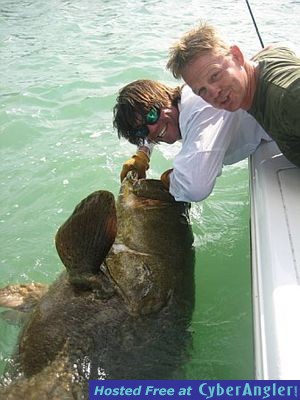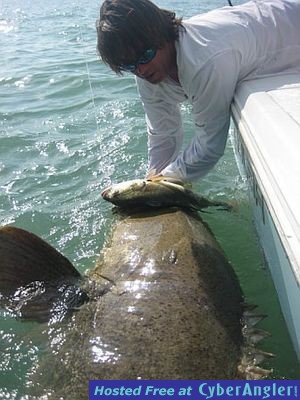 We all shook our heads in disbelief at the animal we just saw, gathered ourselves, and went back to making use of the jacks we had for bait. After passing the rod a couple times, Todd hooked up into another monster. Luckily we pulled the fish well away from the structure and hung on as it took all three brothers to pump the rod and reel down to recover line. The fish did not come in as fast as the first one, but looked like it's twin when it did. Another monster goliath!
I guess the only way to beat the day we had last year with that one big goliath was to catch two! I think we were all spent after that, even John and I that did not reel one of those things in! It has been almost a week now, and I still can't get the images of those fish out of my head. I have seen a lot of them beside the boat now, but every time they come up my jaw still falls at the sight of those monsters. Goliaths live over 50 years, and the fish the Ryans caught were probably 30-40 years old. What an awesome creature. Can't wait for the next time I get out with those guys, I have no idea what could happen next! Remember, the next world record may be a cast away…….Capt. George Howell

Target Species:

Goliath grouper, snook, crevalle jacks
More Fishing Reports: