Good Action on Sarasota & Terra Ceia Bay Flats
Capt. Rick Grassett
September 24, 2017
Sarasota - Saltwater Fishing Report

Anglers fishing with me, out of CB's Saltwater Outfitters on Siesta Key, had some action with trout, snook, Spanish mackerel and flounder in the Terra Ceia area and trout in Sarasota Bay on CAL jigs with shad tails and DOA Deadly Combos during the past week.
After being off the water for more than a week following Hurricane Irma, I got back on the water on Monday to do some scouting and had some action catching and releasing trout on DOA Deadly Combos on the east side of Sarasota Bay. Despite all the rain we've had, except for tannin stained water, the deep grass flats looked fairly good.
Water conditions were similar when Keith McClintock, from Lake Forest, IL and Jack McCulloch, from Lakewood Ranch, FL, fished the Terra Ceia area with me on Wednesday. They had some action catching and releasing snook in skinny water and trout, Spanish mackerel and flounder in deeper water on CAL jigs with shad tails.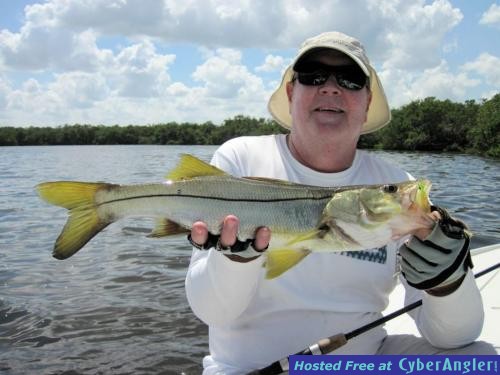 We were fortunate in Sarasota. Except for a tree and lots of tree limbs down, no power for 8-days and some minor exterior damage to our home, all people and pets survived the storm. Hopefully those that were more heavily impacted will get back on their feet soon. It is great to see people reaching out to others in need!
There should be good action with trout and more on deep grass flats of Sarasota Bay. You may find juvenile tarpon, trout or reds mixed with snook in dock lights. You should find juvenile tarpon in canals and creeks and adult tarpon in upper Charlotte Harbor and some areas of Sarasota and Tampa Bay. Fishing lighted docks and bridges in the ICW for snook with flies and DOA Lures should also be a good option.
Tight Lines,
Capt. Rick Grassett
FFI Certified Fly Casting Instructor
Orvis-Endorsed Fly Fishing Guide at CB's Saltwater Outfitters
Orvis Outfitter of the Year-2011
Snook Fin-Addict Guide Service, Inc.
www.snookfin-addict.com, www.snookfinaddict.com and www.flyfishingflorida.us
E-mail snookfin@aol.com
(941) 923-7799
More Fishing Reports: