Pompano & Flounder in Sarasota
Capt. Terry Frankford
November 29, 2010
Sarasota - Saltwater Fishing Report

Fishing Report 11/29/2010 – Capt. Terry Frankford
Catch of the Day has been flounder aboard the Reelin & Chillin. Also, redfish, pompano, spanish mackerel, and a few mangrove snapper ended up on the table. For fun bluefish and ladyfish tightened lines providing some drag pulling and jumping action on light tackle.
Flounder have been found in the bay, however most have been caught on the near shore reefs just off Sarasota Bay. We anchored up in between twenty and twenty-five feet of water near the inshore artificial reefs. Using live shrimp and sardines for bait we had steady action. I used 15lb test line from the reel with a 30lb test mono-leader. A #2 long shanked hook was used to prevent cut offs when the small mackerel hit. The flounder didn't seem to mind the extra hook length and chewed great.
Pompano were found on inshore grass flats in between three and six feet of water. We drifted slowly using the power-pole casting small live shrimp. I used 10lb test line from the reel with a 20lb test mono-leader. A #4 Owner circle hook with a #4 split shot about 18 inches up from the hook. Lite twitching action and slow retrieve brought on the bite.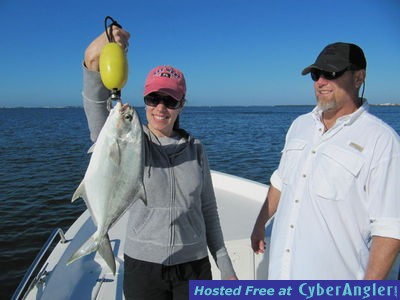 Tight Lines & Good Times, Capt. Terry Frankford
Reelin & Chillin Charters Inc.
941-228-7802
terry.frankford@verizon.net
www.charterfishingsarasota.com
Target Species:

Redfish, Pompano, Mackerel, Flounder, Snook
More Fishing Reports: