Sarasota Florida Fishing Report
Capt. Terry Frankford
April 13, 2011
Sarasota - Saltwater Fishing Report

Fishing Report 4/13/2011 – Capt. Terry Frankford
It's time to get out there and Go Fishin...
Water temps are in the mid to high 70's and the fish are turning on. Plenty of hand picked shrimp to buy and white bait to net. Spanish and King Mackerel are in the Gulf of Mexico as well as the Spanish Macs near the Passes. Nice size Trout are on the grass flats as well as Spanish Macs and Blue fish. Reds are still a little shy finding one every now and then near structure. Snook are out of their winter quarters and in the bays - best to chum white bait for them.
Nick Walker with his Uncle Tim and family headed out for a morning trip with quality redfish on their minds. Luck was with us landing several reds with a couple being in the slot. Nick landed a nice 24 incher not bad using only 10lb test line. After leaving the redfish structure we checked out a few grass flats areas in Sarasota Bay and found some nice seatrout and a couple Pompano for the table.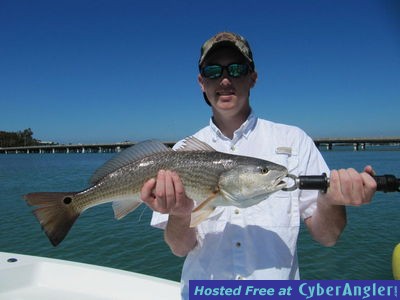 On another morning trip with Lakewood Ranch Angler Club members Larry Naddeo, Joe Dovener and Bart Didrick we had slow but steady action. Ending up with three nice seatrout and several Spanish Mackerel all had plenty for a great Florida fish fry. Larry landed a nice snook around 24 inches - great catch and release action using his bassin gear.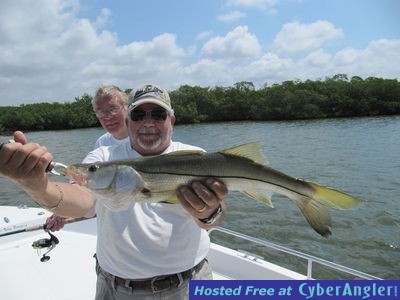 Bait used was live hand-picked shrimp from Hart's Landing Bait located at 930 John Ringling Causeway in Sarasota Florida. Also, white bait caught using a cast net was used for bait on the second trip mentioned.
Tight Lines & Good Times, Capt. Terry Frankford
Reelin & Chillin Charters Inc.
941-228-7802
terry.frankford@verizon.net
www.charterfishingsarasota.com
www.naturetourflorida.com
www.wildshotsphotography.com
Target Species:

Snook, redfish, and trout
More Fishing Reports: