Southern Drawl Kayak Fishing
Steve Gibson
April 14, 2010
Sarasota - Saltwater Fishing Report

Cold was the plague of winter and wind is the bane of spring.
However, the fish are biting.
Mike Romig, an experienced kayker, fished with us recently and did well despite trying conditions. Romig, who resides in Sarasota, FL, caught a number of fishing, including pompano, spotted seatrout and ladyfish. He lost a couple of jigs to bluefish and Spanish mackerel.

We've been getting bluefish to 3 pounds, pompano to 3½, spotted seatrout to 5 and Spanish mackerel to 7½ while casting jigs and flies in Sarasota Bay over deep grass flats.
The size of the fish has been impressive – especially the mackerel. I had never seen a 7 ½-pounder before, let along caught one!
The way I caught it was amusing. I made a 50 foot cast. Just as the fly (my Big Eye Baitfish Fly) hit the water, my cell phone rang. I set the fly down in front of me and grabbed my phone. That's when the line began to take off. I put the phone down, grabbed the rod and set the hook. I knew instantly I was into a hefty fish of some sort, but I had no idea what it was.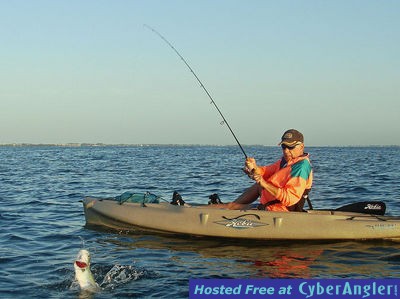 Big jack?
Cobia?
It was fast and strong. It made a couple of long runs and took me into the backing. I'll bet I fought the fish for a full five minutes. I finally figured out it was a whopper mackerel when it came to the surface about 40 feet from the kayak.
I'm not sure, but I would guess it could have been some sort of tippet class world record. However, my shock leader far exceeded IGFA standards. Plus, I was by myself and had not witness.
Oh, well.
We've been catching a number of large mackerel on fly. And the larger fish have been hitting while the fly is sinking. Perhaps there think it's a stunned or dead bait that sinking beneath the school?\
We're not targeting snook because the species suffered so much during our record-cold winter. However, we've been seeing a few in the shallows. Snook are out of season until at least Sept. 1.

Sarasota Fishing Forecast:

We will begin our popular beach snook trips in May. That's when we'll get a better look at the situation.
We look for continued success on spotted seatrout, Spanish mackerel, bluefish and pompano over the deep grass for at least another month. Backcountry fishing for redfish, snook and trout is expected to improve as the weather warms.

Target Species:

Snook, redfish, spotted seatrout, Spanish mackerel, bluefish
More Fishing Reports: