Merry Christmas Mangroves!
Capt. Ted Nesti
December 19, 2015
St. Petersburg - Saltwater Fishing Report

MERRY CHRISTMAS MANGROVES!
You know it's wintertime in Florida when the fickle winds begin to blow. Leave the house and there's barely a breeze, but by the time you get to the boat ramp, it's blowing a gale. Thankfully, the many bayous around the Bay Pines area of Boca Ciega Bay provide the perfect solution. The small copses of mangroves provide relief from the wind and offer a bounty of sport fish, especially during the incoming tide. This week we motored out to the skinny waters of those bayous for a fantastic time catching redfish and snook.
Bait fish were abundant, so it didn't take long to fill the livewell with the pilchards and pinfish. We pitched these baits as close to the mangroves as we could and let them set because patience is key to mangrove fishing. Within 30 minutes we landed and released a feisty and fighting 26- inch snook. Just a few casts later, we hooked up a monster 36-inch snook that gave us quite the 'round-the-boat battle. When the snook action died down, we tried some new spots among the mangroves and started catching redfish. For the rest of the day we were hooking up some beautiful redfish, all in the 18-to-26 inch slot. Redfish get lazy as the temperatures cool, but once they're hooked they put up a fun fight.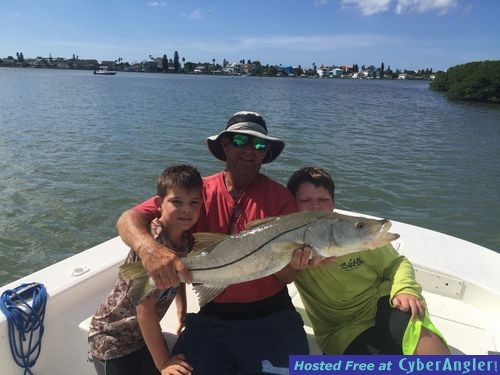 The bite slowed as the incoming tide began to wane, so we headed back to the boat ramp happy to have some tales to tell of the ones that DIDN'T get away. The wintertime bayou strategy once again proved to be the winning strategy for a great day fishing.

More Fishing Reports: