Tampa bay Snook and Cobia
Capt. George Hastick
May 29, 2015
St. Petersburg - Saltwater Fishing Report

Tarpon and cobia have made their appearance from the mouth of Tampa Bay up to
the Howard Franklin area.
We have jumped a few tarpon while fishing for Redfish and snook on live scaled
sardines. Also keep your eyes peeled for cobia around structure but also on the
flats especially if you see a large ray or manatee.
They will follow or swim right underneath them to eat whatever food the ray or
manatee scare out of the grass.
usually if you hook one there will be at least one more following closely behind
so have a second rod with a bait ready to cast for the double hook up!!!
Mike with a nice keeper cobia!!!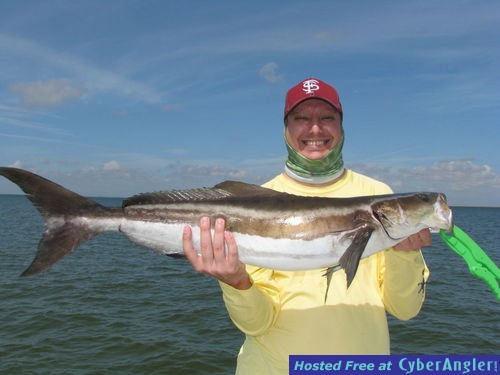 Redfish have been upper slot to over slot lately and are eating most baits like
scaled sardines, pinfish, shrimp and cut bait.
look for grass flats with large pot holes, spoil islands, oyster mounds and
schools of large mullet which the reds will follow because they stir up bait out
of the grass for them to eat.

Snook have been very active and the bait of choice is live scaled sardines. The
key is definitely moving water and frisky baits. Look for areas that are holding
concentrations of fish like mangrove points, cuts between mangroves and sand
patches in grass flats. Handle them with care since they are catch and release
only right now. Revive them first before trying to take a picture and then have
the camera ready for a quick shot and support their belly.
Here is Cathy with a nice catch and release snook recently caught aboard the Fish Hunter.
More Fishing Reports: