Excellent Fishing Going On!
Capt. Patrick Price
August 3, 2017
Stuart - Saltwater Fishing Report

Give Us A Call To Join The Fun!
Fishing continues to remain strong fishing fans. Locally during the day we are catching Snappers, Grouper, Amberjack, Almaco jacks, Sea bass Triggers, Kings, Sailfish, Cobia and more.
Summertime Sailfish continue to push through in waves and if your timing is right you can expect some great action possibly seeing double digit numbers. Kingfish and Bonito have been plentiful on the Reef and we're seeing some Blackfin mixed in with the bonito.
Bottom fishing continues to produce the most table fare. Snapper fishing has been good to excellent during the daytime and great at night as well if you want to dodge the heat. Coupled whither good snapper fishing we continue to have a decent showing of Grouper on bottom fishing charters on the Treasure Coast. We have caught Gags to 40lbs, black Grouper, scamp Grouper and snowy Grouper as well. Amberjack, Almaco Jacks continue to bend rods and break backs on deep sea fishing charters aboard the DayMaker.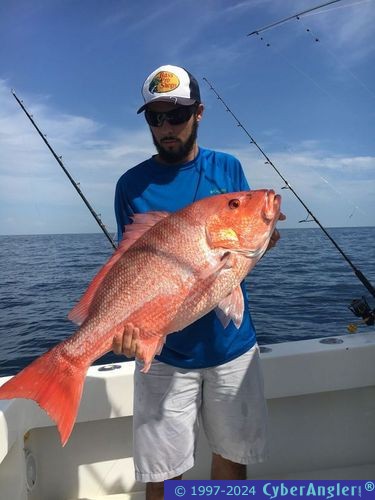 East side tuna charters continue to be impressive. Our last day trip we caught 21 tuna to 50lbs and a couple mahi and our last overnight trip we caught a mixture of 23 tuna including skipjack Blackfin and 5 yellowfin to 45lbs. We also caught a bunch of nice size snapper and some grouper on day 2.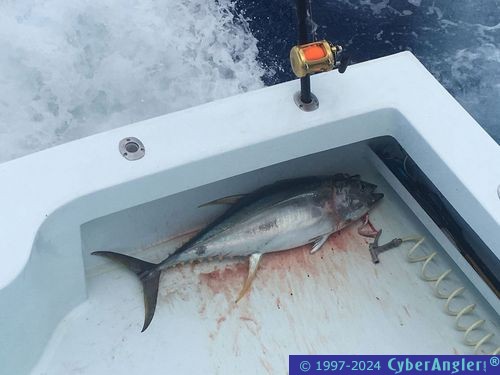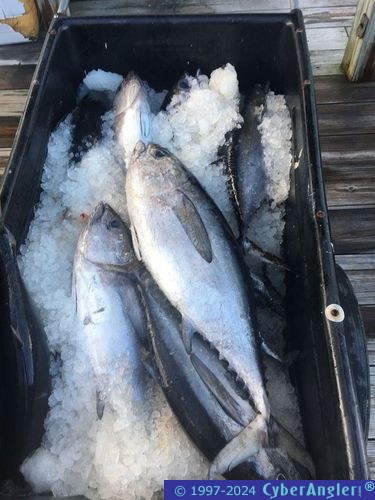 August, September and October provide great opportunities for nighttime snapper charters. Also we see our most bites at during our nighttime swordfish charters. Daytime fishing for snapper, Grouper, Amberjack, Cobia, kingfish, sharks, sailfish, tuna and more should remain strong. And most importantly I still have. My fingers crossed for a summer mahi migration!
I look forward to taking you fishing soon!
Follow our daily reports and Like us on Facebook:
www.facebook.com/DayMakerCharters/
Till next report tight lines,
Capt. Patrick Price
www.daymakerfishing.com
(772) 405-0091

More Fishing Reports: