Huge Amberjack - A Day to Remember
Capt. Patrick Price
May 21, 2013
Stuart - Saltwater Fishing Report

May 15:
Today we had a bottom fishing charter with Bob, Jed, Bill and Tony. We had a great day of fishing catching a limit of Gag Grouper from 16-28lbs a 7lb Scamp and a limit of Amberjack. The Amberjack averaged a weight of about 25-30lbs. We trolled for a little while with no results and came in on a 3/4 day.
May 16:
Today we did an East Side trip and fishing was very difficult. We ended up catching 5 Mahi's to 28lbs and 5 Blackfin Tuna around 10lbs.
Fishing was slow considering the conditions.
May 17:
Today we fished a local fishing charter and had some great action and variety. Today we caught 3 mahi, a 25lb wahoo, 4 Amberjack to 81.5lbs, a 15lb Almaco, 3 Gag Grouper to 30lbs, a 31" Genuine Red, 6 Lesser AJ's, a couple bonito and released a sail.
The 81.5lb AJ would be the 3rd largest to date for the boat and our business. A great catch and a ton of meat for our anglers.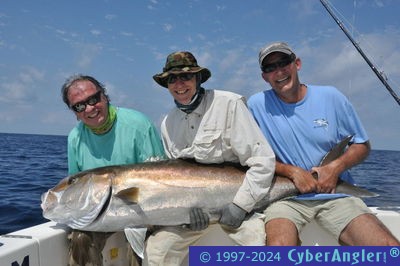 Make your Day aboard the DayMaker,
Capt. Patrick Price
www.daymakerfishing.com
(772) 405-0091
More Fishing Reports: