Sailfish and Mahi-Mahi
Capt. Wayne Brodeur
December 15, 2020
Stuart - Saltwater Fishing Report

Hello Fish Fans, The fishing off the coast of Stuart Fl. is excellent right now. Back to back cold fronts have the sailfish and dolphin on the move with blackfin tuna and wahoo in the mix.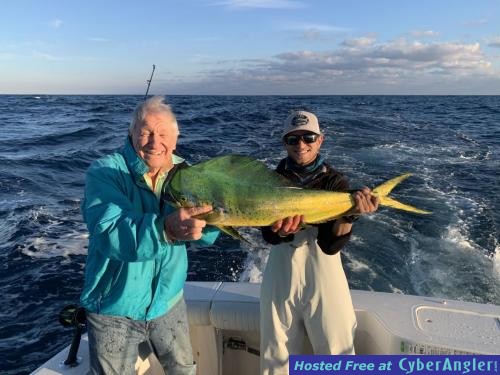 The dolphin or mahi-mahi bite as been excellent and most of the dolphin we're catching are 7 to 12 pounds. There's a few pushing 20-25 pounds but our largest last week was 17 pounds. The dolphin are coming through in packs so many of the bites are double and triple hookups which is always an awesome sight to see.

The sailfish bites been a little more hit and miss. There's allot of sailfish to the north of us still so the best is yet to come. On most days we're getting 2 or 3 sailfish bites but it won't be long 3 to 5 can be expected on most days.

Although not as abundant as the sailfish and dolphin this time of year blackfin tuna and wahoo are pushing through as well. There's been a few kingfish scattered about and they should be arriving in greater numbers any day now.

Get hooked up with Reel Busy Charters today and let's get busy catching fish. Call or Text Capt. Wayne 772-341-6609 www.reelbusycharters.com Let's Go Catch'm!
More Fishing Reports: