Cold weather December fishing in Tampa Bay
Capt. Little Jim Fesperman
January 4, 2010
Tampa Bay - Saltwater Fishing Report

I met David his son Jeff and his father Bob at the ramp at Fort DeSoto at 9:00AM after I had already netted the bait for the day(which was no easy task as the bait is now very scarce on the flats). With great expectations and very low tides the day started out cool, no it was darn cold. The sun only stuck it's hear out for about 45 minutes all day. The temperature never got higher than the low 60's all day and the wind never less than 10 with the water temp's in the 50's. We headed to some of my favorite go to spots for Trout and winter Redfish.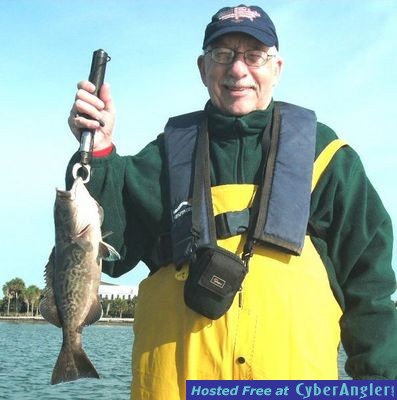 After three spots produced not even a nibble from our targeted fish it was time to switch gears and target a different set of fish namely Sheepshead, Snapper Flounder and Grouper.
Soon we began catching keeper fish at every stop. The Sheepshead are much bigger this year than I think we saw the last couple of years, many in the three to five pound class that make for some tasty fillets. The Snapper (Mango's) today were very nice 14 to 16 inch. The Flounder were all in the small 11 to 14 inch range, so I turned them all back to grow-up a little more. The Grouper while all under size were fun to catch for my customers from Indiana. They had a ball trying to keep them from going back into their hole in the rocks, with the Grouper winning 6o% of the time.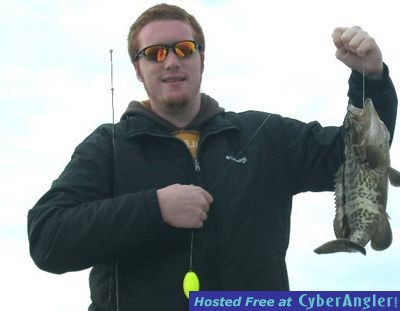 Not the best of days on the water but a fun day with enough fillets to feed four adults with a little left over for a fish sandwich the next day.
Tampa Bay Fishing Forecast:

Fishing going to be much the same as long as the cold weather sticks around. However, I'll bet you ten bucks that this cold spell will turn the Trout on bigtime in a day or two and the Redfish will settle down and bite as well. Note: I can't wait........
Target Species:

Sheepshead, snapper, trout and redfish
More Fishing Reports: