May Starts Out Right, Reds, Snook and More
Capt. John Rivers
May 4, 2019
Tampa Bay - Saltwater Fishing Report

Tampa Bay / Tarpon Springs Fishing Report
It's been a fantastic end to April with big snook and lots of bent rods.
I wanted to let everyone know about a tournament I was in on Friday in Tarpon Springs out of the Crabs Restaurant. The day began with a rain delay and we were only able to fish for 4.5 hours. I had two really fun anglers on the boat, Marsha and her husband John. We fished hard in tough windy conditions, and it had just rained and rained hard, muddying up the water. Despite the tough conditioins, we got second place in the tournament. Earlier, we had the winning fish on: a 38"- 40" Snook, but it rolled as I was trying to land it and it cut the line right at the boat. It was a heartbreaker for sure and it would have put us in first, but second place was still pretty respectable.
We had a 25" redfish, 16.5" Trout, and a 28" Snook, Total inches, 69.5" Slam.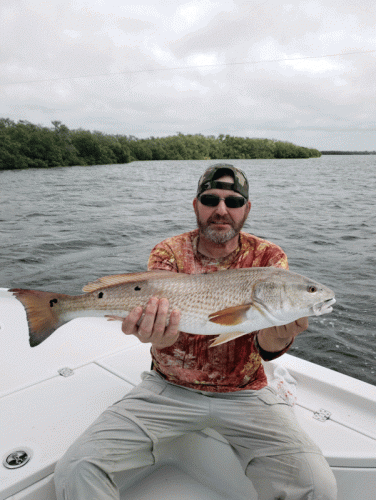 So let's talk about what May is going to be like. Snook fishing should be very good over the next two weeks, as the tides look very good. Redfish again have been hit and miss for me, one day I'll do ok, and another I'll be scratching my head. Trout fishing is still pretty good in the morning and late evening.


The snook are eating white bait and cut threadfin on the bottom. Redfish are also eating the same thing, or if you catch any ladyfish use a small piece and sling it out there.
I've not trout fished much, but when I do, I've been targeting them early as if I were bass fishing and I like tossing artificials when it comes to trout, I seem to catch more on artificials than with live bait.


Summer is not far off and it'll be some blistering heat, but May is not as hot as July or August, so if you still want to enjoy a day on the water with some-what cooler temps, May is a great month to fish the Tampa Bay- Tarpon Springs area.
Rivers to Bay Fishing Charters - R2B Fishing with Capt. John
Hope to see you on the water. Tight Lines.
Capt. John


Sincerely, Capt. John Rivers
727-313-1781
www.tampabayinshoreguides.com

More Fishing Reports: