Red's on fire in Tampa Bay
Capt. Little Jim Fesperman
September 20, 2010
Tampa Bay - Saltwater Fishing Report

The last several weeks the big Redfish have been roaming the flats off south Pinellas County in big schools.
On resent trip we have been getting between 10 and 20 over the slot fish ( we have only had 2 keeper out of the last 80+ redfish caught). They are not hard to find as they turn the water red when you find them in the early morning light.
Cut bait and live scaled sardines has been the bait of choice, however early in the morning with a light wind a Mirrolure She Dog or other top water plugs will light their fire. Don't chase the schools as they will just run, it is better to just setup and let them come to you or get way up wind and drift to them. Most of the fish will be over the slot but every once and a while you will get a nice slot fish to release in some hot olive oil.

Circle hooks will help by not gut hooked fish. The change to "circle hooks" from the "j hooks" will help insure at this great resource will thrive and grow each year. P.s and you will catch more fish in the process.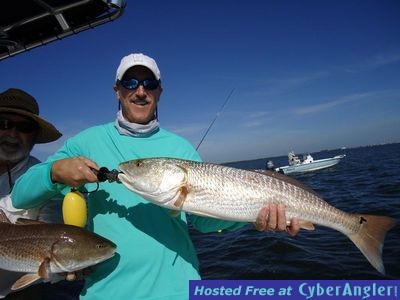 Get out on the water and in on the hot redfish action.

Tampa Bay Fishing Forecast:

Only going to get better as the water continues to cool off
Target Species:

RedFish and Snook
More Fishing Reports: