Almost Spring
Capt. Rick Gross
February 22, 2015
Tampa Bay - Saltwater Fishing Report

It has been a very challenging February to say the least. Colder than normal temperatures and lots of rainy windy days. Despite the conditions fishing has been quite good. On the few nice days when I got out to the reefs we found the Sheepshead bite on fire.
Most fish run from two pounds to around five pounds, but every now and then we will get fish to eight pounds. Shrimp is the bait of choice. I like to use a fish finder rig with a three foot piece of 20# fluoro carbon leader and a 2/0 circle hook. The long leader helps get me more bites from Hog Snapper.
Hogfish have been a nice addition to the creel at the end of the day. Closer to shore around the passes pompano are showing.
I like to use Dock's jigs with a teaser fly in the 1/4 oz. size. Yellow & white as well as pink & white seem to be the best colors. If the water is a little dirty try adding a piece of shrimp for scent.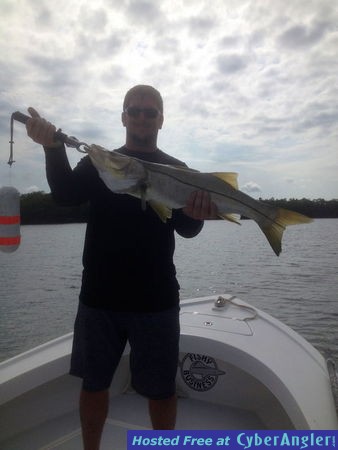 Docks and rocks are the ticket inside the bay. Try to find areas with a little deeper water that are protected from the wind. Residential canals can sometimes be golden at this time of year. If you find a area with lots of glass minnows you should be in business. I like to through a tail hooked shrimp under a dock with no weight and let him swim himself into trouble. This works well for just about everything that swims in the bay. When this crazy weather finally breaks the fishing should be fantastic.
Thank You & Good Fishing!
Capt. Rick Gross
941-730-5148
facebook/captrickgross
More Fishing Reports: