Summertime Fishing is on in Tampa
Capt. Troy Mainzer
April 25, 2014
Tampa Bay - Saltwater Fishing Report

Hey guys, this past week the fishing has been awesome. There was a pretty big storm rolling through last weekend but even with all the rain, the fishing remained very consistent when the weather allowed us to get on the water.
Saturday was a great day on the flats. We started out fishing around Fort Desoto for redfish under the mangroves as the tide came in. The first bait went in the water and literally 30 seconds later we were hooked up to a nice redfish. After a solid fight the 33 inch redfish was released and swam away strong. For the next two hours the bite was consistent with lots of oversize fish and a nice 26 incher to put in the cooler. The three people with me on the boat all caught their first redfish and then some. Unfortunately the rain rolled in so we ducked into a nearby restaurant for lunch.

On Monday the target fish was snook and they were biting pretty well. We released double digit numbers again which has been the norm lately. A few reds and trout were also mixed in. These snook should start moving out to the beach soon. Most of the snook were between 23 and 27 inches but there were a few bigger ones like the 31 incher pictured below.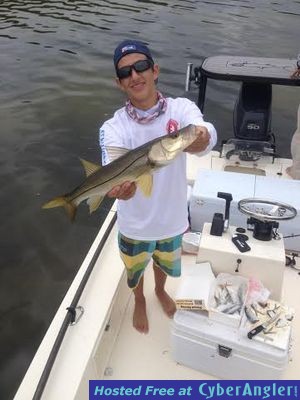 I haven't been tarpon fishing yet but have heard reports of fish being caught and heard a report of 6 the other day. I will start fishing for them myself this week and expect a good bite. The kingfish have been all over the place and should be around for a couple more weeks.
That's it for this week. If you have any questions or would like to book a trip call me at 813-293-4750 or shoot me an email totallyriggedfishing@gmail.com
Tight Lines,
Captain Troy Mainzer
More Fishing Reports: