XXX Snook & Non Skid Wax
Capt. Steven Markovich
March 16, 2009
Tampa Bay - Saltwater Fishing Report

With the water temperatures in Tampa Bay reaching the magical 70 it's clear our snook population is on the move. Snook that were up in the rivers are now on the outskirts of the bay and making there way towards the gulf for spawning. Key to success this weekend required lots of searching; once the snook were located they would quickly inhale lively white bait. On Saturdays trip Captain Steven had a first, a young lady standing on the bow off a slowly passing boat decided it was show time and quickly dropped the towel she was wrapped in and start dancing. Did I mention the part she did not have a swimsuit on? Our clients Josh and Jay hale from Minnesota and this was a first for them.
We had several cut offs this weekend from the snooks razor sharp gill plates, good time to upgrade leader materials to 30+ pound from the lighter lines we use during winter when the water is crystal clear. Sunday we worked more mid bay and had better results. No large fish story's to share just some quality snook in the mid 20's. While getting bait at the Skyway Bridge several schools of mackerel very visible busting bait on the surface, look for the mackerel to continue invading Tampa Bay as the bait continues to move in.
As a professional Captain the appearance of your vessel is very important, while we can't always predict the fishing we can always deliver a quality product for clients with a spotless boat. Appearance will also pay big dividends when its time to sell. I was looking for a product to clean and wax all the non skid deck flooring which is very abundant on a bay boat such as my Pathfinder. I was simply amazed by a product from Woody Wax, their product is incredible! Very easy to use simply wash the deck as usual then using your deck brush apply a small out of Woody Wax onto the brush and brush in. Rinse and you are done, I was blown away by how easy and how ell this works. Blood, bait, scales etc that would stick on the deck no easily rinses away. The 2 pictures show a wet deck before and after application. I also used the Ultra Pine boat wash, use very little as directed as it truly lasts a long time and leaves your boat smelling very good. Check them out at www.woody-wax.com. Stay tuned as I will let you all know how the wax for the hull works.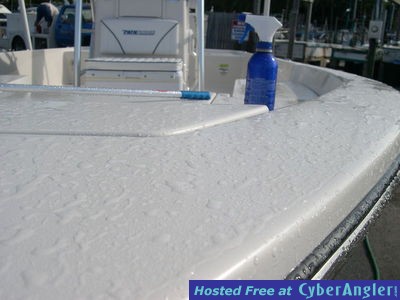 Capt. Steven

Tampa Bay Fishing Forecast:

It only gets better! Snook, redfish and trout are on the prowl. Makeral, kingfish, bonita are starting to arrive.
Target Species:

Snook
More Fishing Reports: