Fall is in the air
Capt. Jeff Legutki
September 8, 2011
Ten Thousand Islands - Saltwater Fishing Report

You can feel the summer heat slowly starting to subside.
Cooler mornings are helping the morning bite last a little bit longer.
Fishing has been good for the most part.
First light on the outgoing tides have been productive with small tarpon in the creeks.

Redfish and snook are all over the place and can be seen on the lower tides cruising the shorelines.
Fly fishing and spin fishing has been fun.
I like throwing top water plugs and flies for the explosive, visual strikes. Fish tend to be very aggressive this time of year and are willing to move a ways to smash a noisy popper.
Tarpon smash them, and usually miss on the first attempt, but they keep coming back until they hammer it.
Reds have to crawl on top of the water to get them in their mouth, which is a site to see.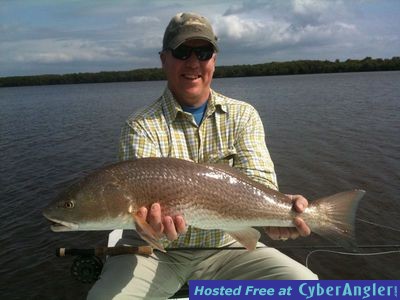 And snook, well they rarely miss when they want it, as the easily slurp it down with that trademark popping strike.
Higher tides in the early afternoon provides great site fishing off the beaches yielding good numbers of smaller snook on the fly rod. Fish between 22-28 inches, fun on a light 7 wt.
Yet we are all awaiting the Fall migration of bait fish that gather and move down our coastline off the beaches. Hordes of glass minnows get balled up and create feeding frenzies. Mackerel are as far as the eye can see. Tarpon move in and create an incredible morning bite. And then the hard drag pulling False Albacore move in to slam any offering.These guys weigh between 7-15 pounds and will pull off 200 feet of backing on the first run.
Fishing is good and will be getting better. Call and reserve your day to fish while there is still open days left.
Ten Thousand Islands Fishing Forecast:

Fishing is getting better by the day. Still calm days and the heat is backing off. Great time to catch almost anything! Easiest time to capture a grand slam and catch all the best game fish in one outing.
More Fishing Reports: