LET'S GO FISHING WITH STRIKE ZONE CHARTERS
Capt. Gary Bonanno
May 8, 2010
Pacific Coast - Saltwater Fishing Report

Well......Where do I start.....Oil Spill….BP …..or BS……..I Keep telling myself things are going to get better. Been in this business for over 21 years and this takes the cake.....
On a good note.. We are Fishing. Please do not cancel your trips with us - until they chain the boats to the dock...
Venice.. Capt Kevin had a 24 hour trip on the 55' Strike Zone Too last Tuesday with my good friend Michael Seal from Covington. The trip started out slow as they made their way out 30 miles south of SW pass. Being run of by some of the rigs and the Drill Ship - they found a home 60 miles from shore. The night bite was not good for Yellow Fin - but it produced some nice Black fin that they parlayed in the morning for eight Yellow Fin .. They didn't see any oil until they got to the 93 block on the way back home. Capt Kevin is back out on the 55' last night and I don't have his report ….but he will not come back to the dock until he has a box of Yellow Fin..
Please Please Please - Book your trip as soon as possible… I have dates open from the groups that have cancelled ..We want to FISH! It is that time of year to load your Freezer with some good Tuna Steaks.
Guatemala Report::::The 40' Strike Zone continues to out - fish the other boats in the fleet down in Guatemala on the Pacific Coast. The Sail Bit has been up and down in the last few weeks. Some days - they want to jump in the boat with catches of over 20 a day and other days we are fighting for 3-6 Sails. The Dorado bite has been Very Good with catches of over 15-20 per day. A few Marlin have shown up to keep the Lines tight on the reels..
During the Oil Spill - I am discounting trips to Guatemala $300.00 per person. I just booked a flight on May 23rd thru May 27th for $396.00 round trip. Great prices on airfare are available.
Get some friends and clients and make the adventure to Guatemala. This is a trip you will talk about for many years to come.- and the rest of your life. I have a group going next week from Houma - I am sure they will have some great pictures and a story to tell when they get back - I promise..
Please give us a call and let us take you Offshore Fishing in either Venice or Guatemala. The Boats are ready - The Captains are ready - and the Fish are ready.
Strike Zone Charters - Louisiana & Guatemala.
Trying to celebrate over 21 years in the Charter Business.
Capt. Gary 225-279-3800 Or Capt. Kevin Aderhold 504-382-2108
www.strikezonecharter.net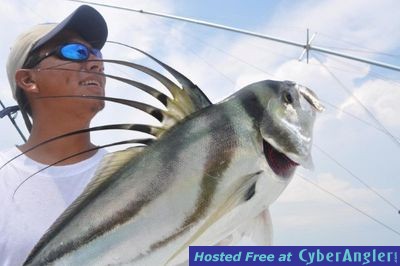 Target Species:

SAILS
More Fishing Reports: