Giant Reds, Shallow Water, Light Tackle = Tired Anglers
Capt. Mike Frenette
March 27, 2009
Venice - Saltwater Fishing Report

Alan Hutson and Dee Harrison arrived at the Redfish Lodge Tuesday afternoon looking forward to two days of fishing. Along for the ride were their wife's Susan and Carol. The wife's were not fishing, only wanted to come down and relax.
After greeting Alan and Dee, Alan informed me that he just heard the weather and according to the weatherman looked like we might not be able to fish in the morning. Of course I had heard the same forecast, but to me it looked as if all the bad weather would be to the north.
Wed. morning woke up to semi cloudy conditions, but more sun than clouds. Bad news from Alan. He is battling hard to beat cancer and had a bad night; Decided that staying in bed to build his strength was a better choice, but was adamant that Dee get out on the water.
Off we went, although Dee was a little reluctant as Alan has been his fishing buddy for over 25 years and they have made a special trip every year and of course this was one of them.
The day went without any bad weather, mostly sunny and plenty of fish. Large Reds up to 35 pounds were caught and released as well as a few slot fish kept for dinner that night. Dee has caught Reds before but never large Reds in shallow water and he was truly amazed at the power. Speed and endurance that these fish displayed. All he could say was " I sure hope Alan would be better in the morning, as he needs to experience this"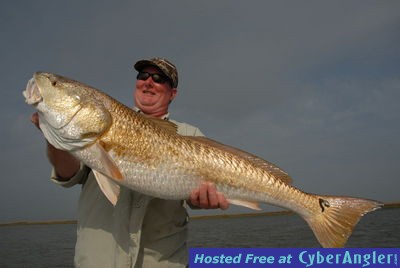 Back at the lodge we learned that Alan was still having a tough time, had never stepped out of bed and opted to pass on dinner and just sleep thru the night. We kept our fingers crossed for the morning.
Again that night the forecast for Thurs. was bleak and again by the looks of it was promising to me that it could pass to the north.
Thurs. morning: Mixed skies, clouds and sun, but no rain. Most importantly Alan was up, moving slowly, but anxiously willing to give it a try. I came to catch one of those monsters and that is what I am going to do. With 199 missions in Viet Nam as a B-52 bomber pilot I knew this man had the drive to accomplish anything. It was quite obvious that he was weak but that was OK, we would be there to help.
Off we went. First stop we had two Reds in the first five minutes, one about 14 pounds and one about 7 pounds, but most importantly Alan caught them both. Now they were not the monsters but it was a start. Alan sat on the back deck of the Triton 24 LTS or in the chair on the back deck all day like a trooper and battled Reds all day. The largest he caught was about 37 pounds and Dee slammed several large Reds as well!! All Reds were caught on soft plastics in less than three feet of water.


Thanks Al and Dee for letting me be a part of this trip, as I am well aware how important this trip meant to everyone!!!
Capt. Mike Frenette
504-782-3474
"Redfish Lodge of Louisiana"
Professional Tournament Angler
Professional Guide
Available For Seminars, Appearances, & Speaking Engagements
www.venicefishing.net
Venice Fishing Forecast:

Giant Reds should continue to explode as well as Trophy trout should begin to appear this month
Target Species:

Giant reds and Trout
More Fishing Reports: