HOT FISHING IN OCEAN CITY MARYLAND
Capt. Joe Drosey
August 1, 2010
Ocean City - Saltwater Fishing Report

Here in Ocean City, Maryland, the fishing activity continues to pick-up. We've had a fair to good run with bluefin tuna, averaging 40-60 pounds, and multiple catches per day. Per the yellowfin tuna have been moving north and there have been several catches in the Baltimore and Wilmington Canyons. Recent trips are yielding an average of 6-12 yellowfin tunas per day. We have also seen more dolphin (mahi-mahi) catches with multiple fish caught per trip. Dolphins have been averaging 5-15 pounds.

There have been some white marlin catches and a few blue marlin catches. The white marlin bites have been above normal for this time of the season. This will continue to pick up for August and September.
The Osprey had a good showing in the 23rd Annual OC Tuna Tournament by placing 3rd, being 1 pound off of second place.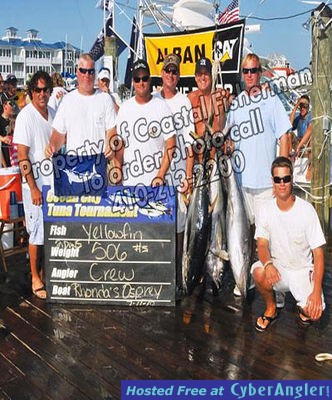 There are still some open days available for tuna, marlin, dolphin and wahoo -- be sure to contact to get a good day of fishing in.
Check out our recent video:
http://www.southfloridaoutdoornetwork.com/about/white-marlin-episode-1/
More Fishing Reports: