WHITE MARLIN MANINA
Capt. Joe Drosey
September 16, 2010
Ocean City - Saltwater Fishing Report

Since the end of July through mid-August, the fishing was definitely above normal. We had great white marlin and dolphin fishing, but hadn't seen much tuna action. However, the end of August and into September has seen RECORD-BREAKING WHITE MARLIN ACTION (and some blue marlin catches).
The Osprey had truly great days ľa day of 3 blue marlin and 3 white marlin

and a day with 22 white marlin catches!!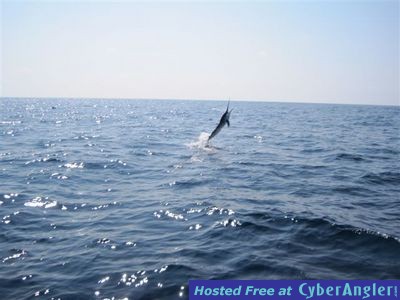 We're still seeing EXCELLENT DOLPHIN catches around the lobster balls and floating debris. Recently, we've had days of 40-60 catches.
The WAHOO fishing has been getting better as the waters begin to cool down, and we expect this to only get better through the end of October.
There's a limited amount of great September through October fishing days still available. If you want to get in on this action, be sure to call (410-977-9669) or email ([email protected]) to secure a date for some truly great fishing.
Ocean City Fishing Forecast:

Also as the waters begin to cool, we start to see more TUNA show up. Just this past week (September 13th) we've begun to see them. Catches of Yellowfin Tuna, Bluefin Tuna and Longfin TUNA will begin to pick up.
Target Species:

TUNA
More Fishing Reports: