Montauk is HOT!
Capt. Robin G Calitri
September 27, 2008
Montauk - Saltwater Fishing Report

The fishing at Montauk is HOT. There are Blues, Albies and tons of 8-20 pound Bass on the surface. You have to pick your days so look at fishweather.com. Montauk fishes best when the wind is under 12 mph. Wind from the East is tough. On 9/22 Joel Weiss and Bob Merril fought rough seas for a banner day. They had over twenty albies, some beautiful Bass and countless blues.


If it blows from the north you have to go through some crap to get to the south side. Best for me is West-South-West. If you choose to bring your boat, there are a couple of places to launch. I have a Town of East Hampton permit for the ramp on West Lake Drive. Call them and see what the deal is for after Labor Day. There is also a pay ramp at Gone Fishing Marina. It is a great ramp but he has short hours. Sometimes the best fishing is dusk. You will do much better with one of the fine fly and light tackle guides who fish out at Montauk every day. On Wednesday Paul Lehmann of Riverbay Outfitters and Tom McCoy of MADD joined me for a wonderful day.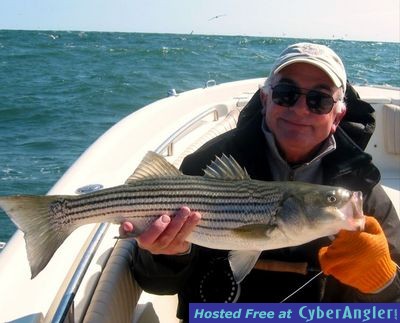 We practiced casting and loosing flies to blues off Shagwong. We then headed to the point where both of them got Albies on the fly. We spent the remainder of the day in Bass Boils off the North side.


I sometimes launch at Lousse Point and fish the Back of Gardiners Island in an East wind. This came in handy when East winds and 6-9 foot seas almost shut down the wonderful Redbone Tournament which raises money for Cystic Fibrosis. I had newish anglers Sophocles Zoullas and Hank Mannix who were game to fish in Cherry Harbor.
Well, the tackle busting Blues were marauding large bunker on the lee of Gardiners so my fine anglers kicked some blue butt. Although the Redbone was cancelled, Hank and Soph deserve recognition along with the anglers who fished with Guide Greg Snow and the Colliers who found bass in the surf. Brendan McCarthy and crew who really pulled the Tournament together deserve a round of applause.
If you come to Montauk, You need 8-10 weight fly rods with intermediate and sinking lines. I fish 50 lb fluoro leaders for everything. Use a loop knot. The bait is mainly small anchovies so epoxies and deceivers about 1-3 inches long work. I use giant flies on sinking lines to get the pig bass. For spinning, most of us throw 6 inch pink or white sluggoes or fin-s-fish, un weighted on a 5/0 hook. Other stuff works as well. If you have waders, korkers and surf gear, Montauk is the best surfcasting in the world. If you bring your own boat (nothing less than 20'). Most of the boats that you see are fly guides so watch first. Don't get too excited and cut anyone off. There are plenty of fish. If you get in close to shore, face the bow out and have someone on the wheel. If you have a four stroke engine you leave it running. The two strokes spook the fish. Look for me in my yellow Scout, C Sic Again. I still have some openings so check out LongIslandFlyFishing.com. BASSt, Captain Robin Calitri

More Fishing Reports: