Lake Erie walleye fishing forecast and report
Capt. Tom Chambers
February 22, 2009
Lake Erie - Freshwater Fishing Report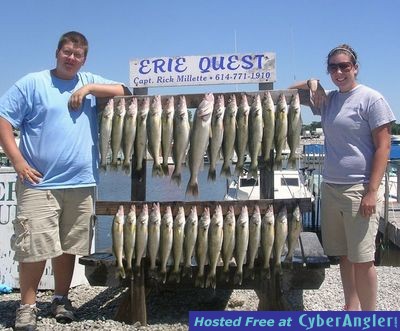 Lake Erie Fishing Forecast:

Lake Erie walleye anglers can expect to catch fish mostly from the 2003 hatch, with continued contributions from 1999 and 2001 hatches, as well as some fish from the 2005 hatch. Lake Erie alleye from the 2003 hatch will be 20 to 24 inches long, while fish from the earlier hatches will range from 21 to 27 inches over the course of the fishing season. Fish from the 2005 hatch should be in the 15 to 18-inch range. Large walleye from strong hatches in the 1980s and mid-1990s still persist in the population, providing "Fish Ohio" trophy (more than 28 inches) opportunities with Capt. Rick and Erie Quest Charters.
"The walleye fishery in 2007 was better than the phenomenal fishery that we saw in 2006." "Weather permitting, we expect to have another year of excellent walleye fishing, with an unbelievable average size of more than 20 inches in the catch."
The daily bag limit remains four fish per person during March and April, and six fish from May through February 2009. The 15-inch minimum size limit is in effect during the entire season.
Capt. Rick
Erie Quest Charters
Target Species:

walleye
More Fishing Reports: