HOT all-round Kayak Fishing action on the Wild Coast
Capt. Sam Wadman
December 31, 2018
Azuero Peninsula - Saltwater Fishing Report

Here at 'Panama Kayak Adventure' we have just opened our stunning eco-lodge out in the wilderness for this new 2019 season. This is our 7th year operating out here in paradise.
With our remote fishery way out on the Azuero Peninsula having been rested for a good few months it was good to get back on the water. It was nice to find the Cubera Snapper in their usual haunts, providing our guests with some stunning action on top-water poppers. Rob Dankowsky from Canada had the biggest so far which we estimated between 40 and 50lbs. We return all of these stunning fish to proliferate and provide smiles for generations to come.
The Roosters were ever present and provided some good action for our anglers on the Jig. The small to medium size fish were most obliging, chasing the metal at mid-water on our nearshore reef systems. These fish always put a smile on the faces of our anglers.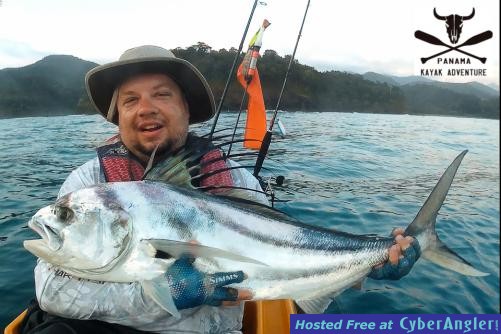 We hooked a couple of freight train like Roosters on live bonito but sadly both of these monsters managed to escape their minute of fame in front of the camera. These fish are a real handful from a kayak in shallow water close to the shore and both times they managed to wrap the braid round a rock. That's fishing for you!
We've notched up an impressive 21 species already with our first 2 groups and have eaten well every day. Yellowfin Tuna have been present most days and always entertain with their drag screaming runs. Everyone loves catching Tuna!
There have been plenty of plate sized pompano around and lost of smaller snapper species. The variety available here never ceases to amaze us.
We have fished from the shore right out front of our lodge a coupel of evenings, soaking big fillets of bonito in the surf. We lost a 30lb or so Cubera Snapper in the waves the first night and beached a 75lb Nurse Shark on our second attempt. Its always a surprise fishing the beach after dark.
That's all for now, thanks for reading and if you fancy checking out our incredible fishery or finding out more about us then have a look at:
Established 2013 - We are Panama's Original and Best Kayak Fishing Lodge.
Target Species:

Roosterfish, Cubera Snapper, Yellowfin Tuna, Amberjack, Dorado etc...
More Fishing Reports: